If you order within
Arrives by
Regular price
$50.39 USD
Sale price
$41.99 USD
Unit price
per
Sale
Sold out
The Trash Keeper Trash Can is a must-have accessory for those who want to easily dispose of travel garbage and keep their car clean on cross-town and cross-country trips with their family and friends.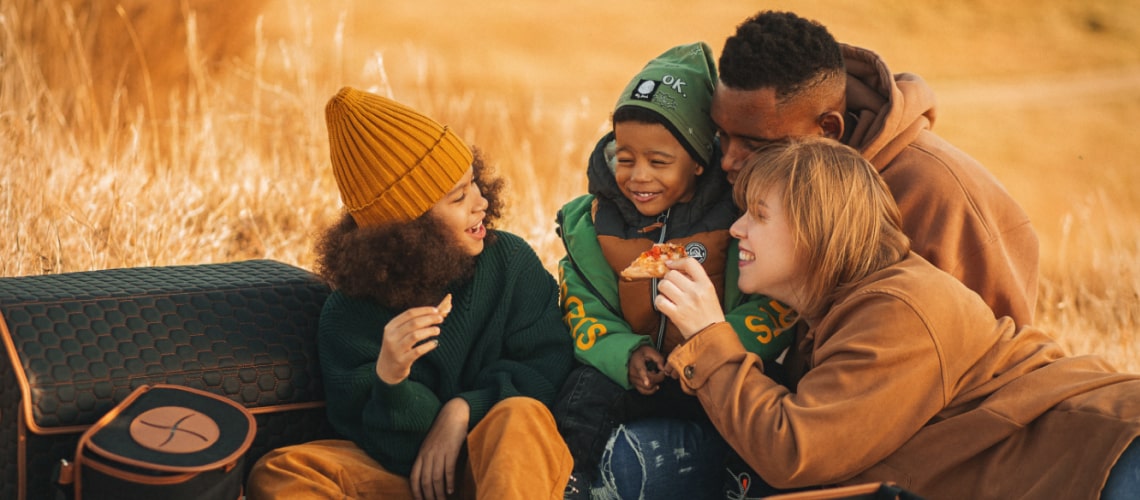 Don't let car garbage ruin your travel experience
Your hassle-free trash disposal solution
Convenient on-the-go use
Get rid of empty bottles, dirty wipes, chocolate-bar wrappers, old chewing gums, cups of coffee, banana peels, and more - easily right on the road.
Concentrate on your journey
No more discomfort due to trash accumulated in the car for both the driver and passengers - let your Trash Keeper handle all garbage issues.
Forget about messy leaks
Liquids will stay inside due to the double-layer waterproof structure of this trash can, so no drips or stains will make your car dity or ruin your travel.
Extra storage space
Store snacks, drinks and wet wipes in two elastic mesh pockets and a sturdy front pocket.
Multi-purpose design
Use it not only in the car, but also during hikes and picnics when there are no trash cans nearby.
Space-saving fit
The Trash is suitable for all car models, from vans to sports cars. Plus, this is a collapsible model that folds down easily when not in use for compact storage.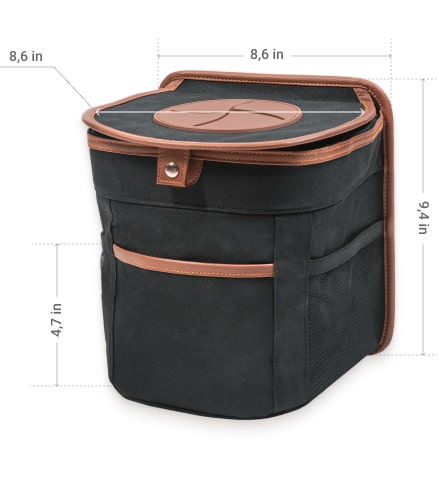 Garbage in the car is no longer a problem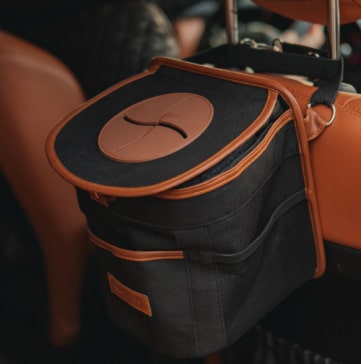 Install wherever you want
Attach your Trash Keeper to the headrest, seat back or simply place it on the car floor - make it fit your need effortlessly.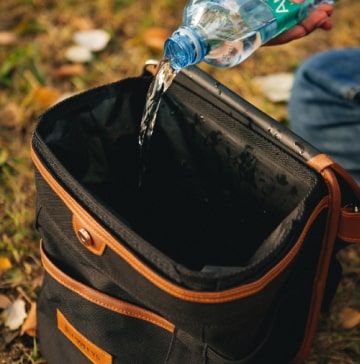 Two layers, double protection
The removable inner lining is fixed with Velcro and is completely waterproof. Just wipe with a damp cloth to keep it clean.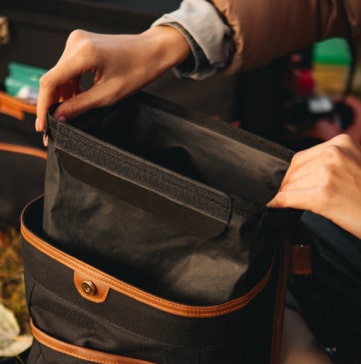 Premium-quality handicraft
Soft PU leather, 600D Oxford and silicone are sturdy and durable. Plus, it has metal hooks and a strong magnetic button.
FAQs
No, it's not. Please use a damp cloth or hand wash to clean this trash can.
It keeps the trash can in shape. Insert this strip into the side hole in the wall of the trash can to keep it sturdy and stable.
No, it is sewn to the body of the trash can.
♻️Eco-friendly / 🇺🇸Made-in-USA / 👍Social Good
Reviews
Our reviews are verified for authenticity
Great quality, versatile design

Size and color didn't fit me. Return.

the size is exactly what you want, love it <3

super trash can can be used as a storage bag 👍🏽

the most thoughtful and convenient garbage bin for the car

Convenient and compact, everything is as described ! An essential accessory for a family car !

I'm happy! Finally, my back seat doesn't look like chaos! I highly recommend this to PARENTS!!

this one is a very handy garbage / storage bag! got my package quickly in a sturdy box

Great bag for trash and storage on the go. Has a convenient carrying strap, can be taken for a picnic

useful accessory for the car, side pockets can be used for wet wipes, water bottles and other little things 👍

Great garbage bag, especially if you have kids! This trash can is a kind of a road game for them! Helps instill in kids a love for cleanliness 👍👍👍

wonderful garbage bag , compact , easy to clean… an indispensable thing, especially for long distance trips. helps keep the car tidy,and besides looks very stylish !

Easy to install, compact size, convenient to use . I really wanted such a trash can for my car, very useful to have with little kids !

Came in 2 days! Pleasantly surprised by the quality 👌 Versatule accessory and can be used not only for garbage! Looks very cute, compact size

Incredibly handy when traveling with kids! Now all the plastic bags, empty bottles, dirty napkins etc. are stored in this bag, and not scattered all over the car 👍

Has a waterproof double lining, you can safely throw away cups of coffee and not be afraid that something will spill. Compact trash bag. Stylish, you can't even say that it is for garbage.

Compact trash bin for the car, convenient fastening wherever you want in your car. We attached it to the headrest of the front seat. Color black-brown as pictured. Thank you very much

My husband and I really liked this car can! The idea of the removable waterproof bottom is really smart, the design itself is really cute and versatile. Definitely ordering another one as a gift!

A great trash can to have in your car! It's easy to use and wash,plus it doesnt interfere with passengers in the back. Attached below between the front seats. Delivery took about 3 days

The trashcan of excellent quality, doesn't take up much space in the car. A very handy strap for attaching to the headrest or to the back of the seat, you can also use it for carrying if you plan a day outdoors

This trash can is what my car really lacked! Attached it to the headrest of the front passenger seat. And the car is neat and tidy! Now ee use it for children's toys, and on road trips we'll use it for garbage. Really impressed with the quality. Thanks!

A must-have for a car... papers, empty coffe cups and water bottles are now in this bin, and not on the seats or on the floor... I ordered first for my car, now received two more as a gift for my wife and son… Delivered in a couple of days, in a good box

It's a great sized trash bin with a removable waterproof lining. Sewing is done neatly, has three side pockets. I have long wanted all garbage, candy wrappers, paper checks and everything else to be in one place, and not scattered all over the car.. Thank you!

Good auto trash bin. The lid closes with a button, in the middle there is a rubber hole to store garbage. Inside there is a waterproof layer attached with Velcro, which, as far as I understand it, is waterproof. Haven't tried it for a picnic but would like to :)

You can take this trash bag with you on a hike or a picnic, it's super convenient for on the go! We've been using it for about a month now and are very happy with the purchase. Also it can be a good gift, the packaging it came in was very cute and sturdy.

amazing car trash bin! perfect size, I attached to the seat back of the front seat in our toyota corolla. ideal for trash and just for storing different things on the road. I like its fresh design, never seen anything like this before. so after a week of use, I can say that I definitely recommend ordering this trash can!

The trash can came in a beautiful package, perfect for a gift. Inside, there is double bottom with waterproof lining. Outside, there are pockets to store snacks, hand sanitizers or napkins. The attachment strap is long and made of durable textile. Overall, it's a great accessory for your car, especially on the road with family or friends.

I received my order in 3 days, in a cute box and packaging. This trash can looks very stylish. I think it's the perfect design for black, beige, or brown car interiors. Has double bottom, carrying strap, additional side pockets for wet wipes or other things. Tried to pour water inside, nothing leaks. Vey satisfied with my purchase and recommend ordering this!

Very satisfied with my order! I got it for a road trip, but now this trash can is in my car all the time !! The size is quite small, but the volume is perfectly enough for regular emptying. Nothing leaks as there is a waterproof layer inside. This made driving with my son muuuch easier, cause now all empty cookies packs and juice boxes are carefully thrown into the trash (though not always the first time lol)

Ok so this is not the first time I order products from this brand. The color of the trashcan matches perfectly with their other products, we have seat covers. As for this specific trash can, it's completely waterproof, with additional pockets and is also portable. The attachment is versatile, you can place it wherever you like in the car. We keep it on the floor of our minivan. Recommended especially for families with small children.

Love it! I used to have a simple garbage bag for road trips, but it never looked good, so I decided to order a trash can. This one looks very nice and neat! I hung it on the back seat where the headrest is. Perfect fit for my brown interior! The lid is on a magnet and inner bottom is removable. Has three pockets for storing wet wipes, or snacks for the road! Very handy for both long and daily trips! Thanks, I highly recommend this procudt!!

A truly well and smartly made garbage bag. I have been driving for more than fifteen years, but I didn't even imagine there are such trash cans for cars. I saw it accidently on Facebook and immediately ordered one. Finally, there's perfect order in my car. All this time I kept storing garbage in my car doors, cup holders, or in the glove box. And especially in the back seat when my granddaughter is sitting, she always had a lot of garbage. So it's good to have such trash can. Thank you.

Got this trash bag two weeks ago. It has a removable waterproof bottom: you can throw out cups and bottles and neber be afraid that something spills and stains your car! Good volume. The garbage you put inside is not visible, so it looks really nice in the car. Such a stylish trash can that at first you won't even guess that it's actually a trash can :) There is a silicone hole in the middle and a lid with a magnetic button: even children can use it. All in all, 100% pleased with what I got :)
Share
View full details
Collapsible content
SHIPPING

We will dispatch your order with in 24-Hours after confirmation of Payment

Fast & Free Expedited Shipping Guarantee Delivery in 2-4 Days
RETURNS

Buy confidently, we offer hassle free No Question Asked FREE returns. We will provide return Shipping label. START RETURN