If you order within
Arrives by
Regular price
$22.79 USD
Sale price
$18.99 USD
Unit price
per
Sale
Sold out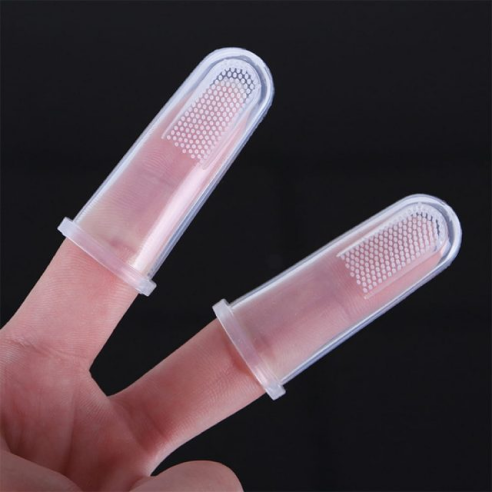 Get scrubbin' gently
When it comes to dental health for your dog or cat, it's best to start easy and gentle. Most animals recoil and cough when you try inserting a toothbrush into their mouths -- so start with our Soft Finger Pet Toothbrush. Designed to mimic your finger with soft bristles, your pet will be more receptive to a gentle tooth-brushing experience. Once your pet gets used to this brush, you can upgrade to an actual pet toothbrush for a deeper clean. Each order comes with three brushes.
Let's clean those chompers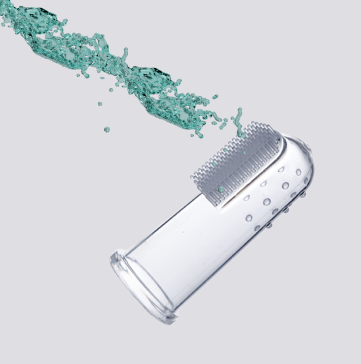 Wash the brush before use, then place it onto one finger.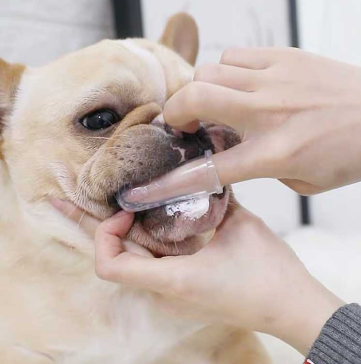 Dab a small dab of pet toothpaste and gently insert your finger into your pet's mouth.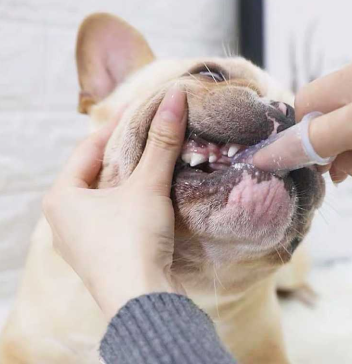 Brush gently in small, circular motions, getting the teeth and gum line.
Soft silicone for a soft cleaning
No harsh plastics or rubbers here. All of our finger brushes are made from 100% silicone and measure 1.9 inches (5 centimeters) in length for gag-free usage.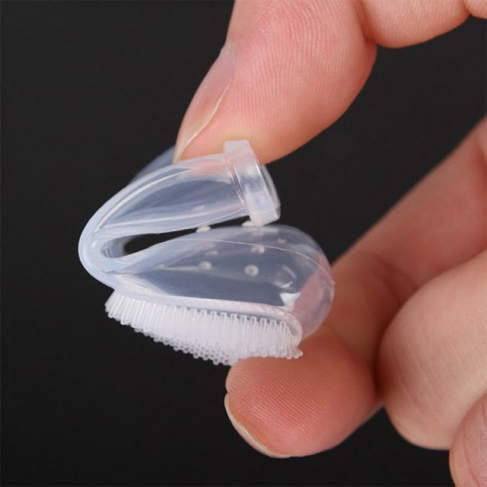 Designed to be gentle (but thorough)
Unlike competitor finger brushes that feature flat-profile bristles, our bristles are curved, providing a deeper clean that can clean at angles and gently get into crevices. Remove plaque, tartar, and bacteria more thoroughly.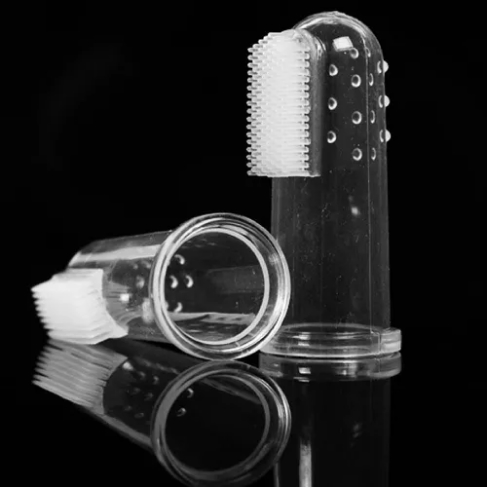 Size trick for you
Finger brush a little too big?
Hold the brush on your index finger and hold it with your thumb and middle finger as you brush your pet's teeth. If that doesn't work, you can roll a piece of paper towel into the brush and insert your finger back in for a more snug fit. With on purchase you get 3 Finger Toothbrushes.
Reviews
Our reviews are verified for authenticity
My dog actually let me put this finger toothbrush with toothpaste in his mouth. That's a first. So I love this product. Now I don't feel so guilty about not brushing my dog's teeth! The toothbrush stays on my finger well and the toothpaste must taste good to my dog. He seemed to like it a lot. Yay!!!!!

Found that fits any finger, is good for brushing teeth yes have buy a toothpaste dogs now, is amazing, the bristles are soft and not hurt the gums dog. Slow to arrive because of Corona

A good brush, took for Spitz, read that these are better than children's and brushes for dogs, the Spitz mouth is small. These cheeks can be cut and twisted, do not hurt the gum

My dogs, are still getting use to it.

Comfortable thing, and the dog likes to bite it! Especially with delicious dog toothpaste :)

Clean, easy to use!! Soft silicone!!

I like it... more important my dog likes it. He doesn't want me to brush his teeth but he'll let me put my finger in his mouth. He's a pretty smart dog but he hasn't figured out what I'm doing in there with that little rubber finger. Slides easy on my fat fingers when wet. Cleans easy. Durable product. Dog thinks I'm a little weird but he loves me. I'm happy and his teeth are clean.

Great brush I regret that I ordered only one set. Everything is fine. Recommend!

Our dog never liked having his teeth cleaned until these little miracles. He's now willing to have his teeth brushed with little fuss.

Product arrived as described. It does its job. Reasonable price.

The bristles are very soft and non-irritating. My kittens tolerate it well enough. The brush seems very durable as well. I've had it for at least 3-4weeks and I'm still using the same brush. Perhaps when my kittens are older, there will be more wear and tear. For now, though, these brushes seem very durable. The only downside I can see is that anybody with thick fingers might have a hard time putting this on. Thankfully, my index finger fits(snuggly) and doesn't come off during brushing. It's a bit of a hassle to pull it off, but it comes off easily if there is water or soap. I would purchase again

I think it would be good for a dog but certainly not a cat ... which it said it could do. It is well made, soft material so looks durable.

Product arrived on time, and easy to clean my dogs teeth with it as described. Great value for the price.

My golden-doodle puppy is a voracious chewer and the finger brush is just what he needs to hold up to his sharp baby teeth. He loves the flavor of the toothpaste and looks forward to "brushing time"!

The quality is excellent, delivery is fast. Thank you to the store.

Cool, soft, comfortable. In the case has not tried yet, hope the dog will like

This is a good starter toothbrush. This finger toothbrush fits well on my fingers but does not really even fit on my husband's pinky finger. I do really like the cases that come with the tooth brushes.

Kinda snug on your finger but simple to use and helpful when first brushing your pets teeth. These helped significantly to be able to get to the back of the mouth because she just chomps down on a regular toothbrush and you can't get anywhere. This gives you much more control and chomping down on your finger doesn't hurt.

I tried other brushes and struggled to make it work. But these soft brushes, my puppy didn't mind at all.

A bit tight for my fingers. Good brushing surface, soft yet effective. I use on dogs & cats and neither mind as I assume it must feel rather nice since they allow me to brush their teeth & gums with no resistance.

I bought this after reading someone else's review. I have small fingers and so does my husband, we can barely insert our index finger in this but not to where it's non functional. Sometimes it'll slip off the finger because it's already at the tip. I'm super glad we bought this though.

Normally, I have a hard time cleaning my small dogs' teeth. For the first time, my dogs did not run from me when I put the toothbrush on my finger, they were actually trying to take it off my finger. I'm not sure if the toothbrush texture attracted them or some flavor on the toothbrush, but my dogs allow me to use this brush on them.
Share
View full details
Collapsible content
SHIPPING

We will dispatch your order with in 24-Hours after confirmation of Payment

Fast & Free Expedited Shipping Guarantee Delivery in 2-4 Days
RETURNS

Buy confidently, we offer hassle free No Question Asked FREE returns. We will provide return Shipping label. START RETURN