If you order within
Arrives by
Regular price
$28.79 USD
Sale price
$23.99 USD
Unit price
per
Sale
Sold out
Small, compact, functional
Food-grade, temperature-resistant silicone takes center stage on our little culinary accessory that measures just 8.6 x 3.1 x 2.2 inches. Compact and totally flexible, there's no limitations with our strainer. Two built-in clips allow you to securely attach to any pot or pan for easy draining. You can detach and clean with ease (by hand or dishwasher), then store away compactly.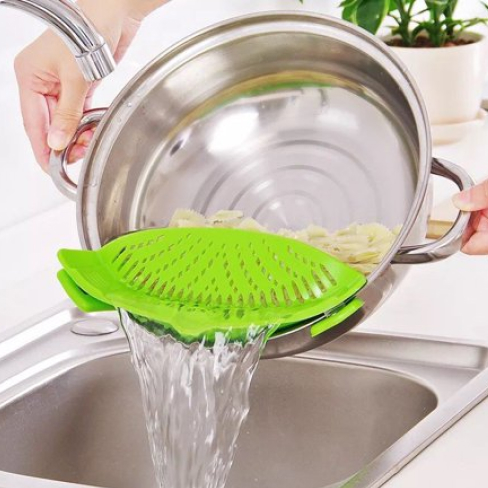 Lightweight build for heavyweight performance
There's too much work and risk involved in holding a strainer with one hand while steadying a boiling-hot pot of pasta with the other, hoping you don't burn your hand as you drain out the water. Stop the madness -- and free up both your hands. Our clip-on strainer allows you to safely hold a pot with both hands and tilt in one direction for easy flow. Safe, sturdy, and easy to use. That's the way cookware and utensils should be.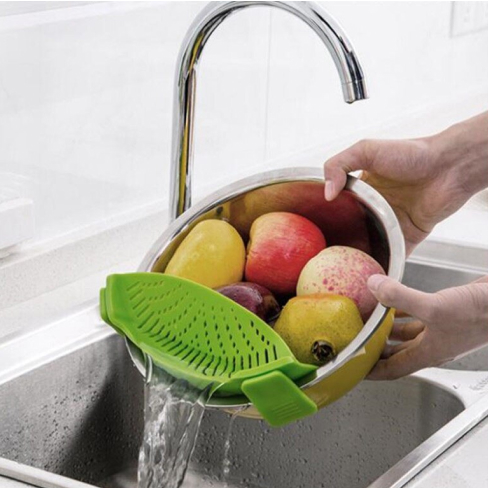 Finally, a way to work hands-free
There's too much work and risk involved in holding a strainer with one hand while steadying a boiling-hot pot of pasta with the other, hoping you don't burn your hand as you drain out the water. Stop the madness -- and free up both your hands. Our clip-on strainer allows you to safely hold a pot with both hands and tilt in one direction for easy flow. Safe, sturdy, and easy to use. That's the way cookware and utensils should be.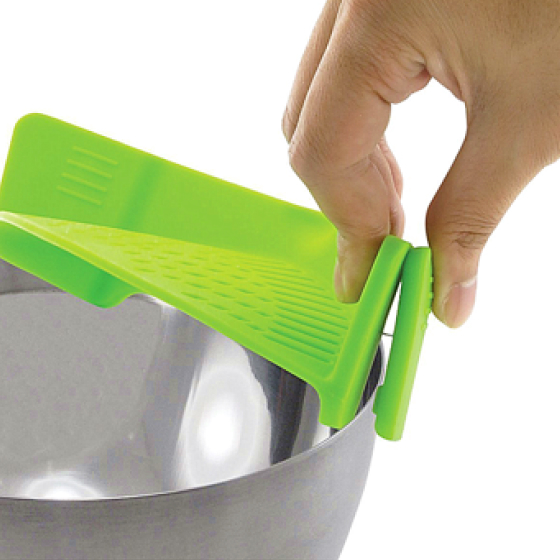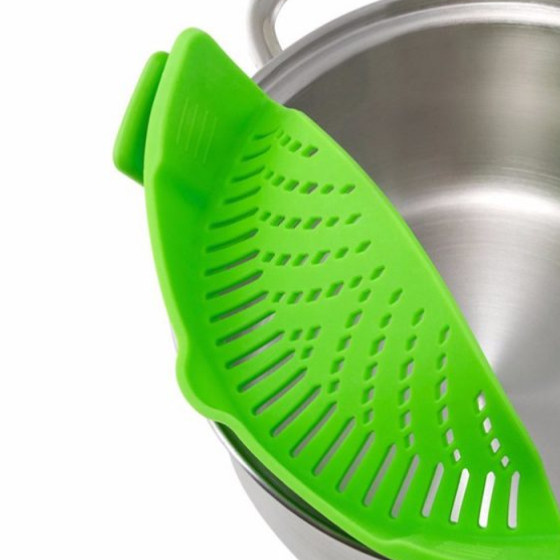 Works for any task
Whether you're straining freshly-boiled pasta or dumplings or just-washed lettuce and carrots, this Silicone Pot Strainer is up to the job for a mess-free, stress-free time in the kitchen.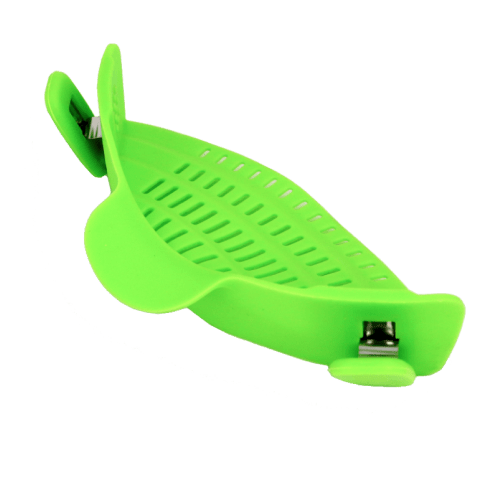 Reviews
Our reviews are verified for authenticity
This makes it so much easier to dump out water when making pasta of any type. Fits very well to most sized pans and dishwasher safe. My 9 yr old granddaughter can now dump the water out of the Mac and cheese easily. This is a must have for people who make Pastas of any kind that require dumping out hot water. It is made out of a type of rubber so I'm not sure if I would use it for hot grease, but it may be ok for that too since a lot of spatulas etc are made from similar material

corresponds 100% to the description. thanks!

This worked so well for draining beef grease from my large 12" fry pan. There was no leaking what so ever like I was afraid of. It poured perfectly into a small cup. I also used it to drain hot water from boiling noodles for the same dinner! I had tried everything to drain fat, from spooning it out, turkey bastering it, and most recently trying to scoop it out and pat it dry. This is a lifesaver! I cannot wait to use it again!

Fantastic Silicone Pot Strainer!

great packaging, i got product in great condition. Thanks. Recommend.

Quick delivery and fun color of strainer to make some accents in the kitchen.

I waited awhile to give my review. I wasn't sure how often I would use this but turns out " a lot". It strains hot foods very easily. I first used it for my pinto beans and then I tried it on Spaghetti. I was really amazed that I didn't lose 1 single noodle to the sink. Would not use it for rice as the slots are to wide. I used to use the lid to drain but would burn my fingers or lose food down the sink. This is perfect.

I absolutely love this strainer. It works on pots and pans with or without a rim perfectly. For pots with a rim or lip, you just need to hook it into place by opening the clip and sort of sliding it over/around the rim. The clips don't open wide but I prefer that because it makes the strainer more secure. For anyone worried about it scratching your pans - This strainer is a thick, soft silicone and the clips are covered as well, so no metal will touch your cookware. I've used this on non-stick saucepans, stainless skillets and pans, stockpots and cast iron, an enameled dutch oven, and soup bowls with zero issues.

Product is super! Thank you very much!

I cannot say enough good about this strainer. It fits all my pots from small to huge, even frying pans! I have strainers, colondars, every kind of lid converter...........This strainer is the best ever. When the pot is too heavy for me to hold to drain off the water, with this I can still hold on with both hands, and then when it is mostly drained, I set the pot in the sink to continue to drain (fidigity pastas) Washes up like a dream, or toss in the dishwasher. I do not know how I lived without this strainer. Now I can get rid of probably 20 items out of my kitchens!

This works pretty much as advertised. I live alone in a small apartment with a small kitchen that has very little storage space, and I often eat pasta. Using a colander means one more thing I have to wash (& store & put away). I have a couple of hand strainers, but that makes things awkward, especially since I have a condition that makes it even more so. This little guy has made things so much easier! Its small size makes it easy to wash (by hand, for me) and then just bung in a drawer. It's sturdy, even the clips, so I don't feel I have to be gentle with it. I'm not too keen on the colours, but I didn't buy it for decoration, so no points off. It does NOT fit my Instant Pot pot, but then it never really claimed to, & the IP pot is its own design, so again - no points off. I'm pleased with my purchase, and would recommend it highly, provided people actually read the description & not go solely by the photo plus what they want it to be above & beyond. (I hoped it would fit the IP, but it does fit all my "normal" pots & pans, so I feel it was a reasonable description. Haven't tried it on the cast-iron skillet yet....)

thanks a bunch! great aid in my kitchen

Why didn't I discover this earlier??? I am not a fan of cooking, really, but I have to with a family of 5. This helps cut down on a mundane process. You know you're an adult when...you get excited about kitchen gadgets. There are reviews that say it won't fit over pots or pans with 'lips' but I've used it just fine with those types. You have to just really wiggle it in there slowly. It's snug, but u want that! Otherwise, you'll end up with a mess if it fits easily, because that means that it will slide out easily also. It would make a great gift for anyone that cooks even periodically. The ONLY thing that I'd change or enhance is the height of it (when in a tilting position to pour). If I have a lot of food in a bigger pan I do have to pour more slowly to make sure that nothing comes tumbling out. But I would definitely but it again!

The items are in great condition. I'm really satisfied with the product!

great strainer for a past cooking class

better quality, than I expected

All the reviews made me realize it's great value for money

With a discount, is a great offer. Loved the seller attitude! I was surprised at how well it worked! I can use it with grease to drain meat. I can drain water, or really whatever I want that's been in a pan. Wide mouth pans that are shallow once and a while spit things from the top if your not careful. But thats the only type of pan I have had to "babysit" the strainer. Very good buy for a simpler way to strain multiple things.

Silicone Pot Strainer came very quickly, within two weeks. Thank You!!

Great quality silicone - not just useful, but also eco-friendly

This item is fantastic! The primary pot on which I use the SNAP'N STRAIN is a non-stick stock pot that has a somewhat unusual "lipped" edge. Thus, I was a bit apprehensive that the SNAP'N STRAIN would not snap securely in place. Although it's a bit of a tight fit, it does snap in place and hold securely to the non-stick sides of the pot. I can now strain pasta from the boiling pot by simply holding the pot's handles and not have to hold a strainer in place - no more burned hands! I just received the product, so I can't really attest to its durability. However, I have other silicon cooking utensils and know that they hold up extremely well to high temperatures and extensive usage (unlike my previous PLASTIC strainer that simply cracked and fell apart after a couple years of use).

must-have for a small kitchen, very useful and easy to wash

it looks exactly like the picture and i know for sure my best friend will love it!

can't wait to try my new silicone pot strainer. looks promising

I wasn't really sure about this gadget, but the spouse was always draining some fat from meats in a frying pan so I thought I'd help him out with a fun thing. Turns out I use it more than him and for all my pastas, potatoes, etc. I pretty much gave up on my colanders and other strainers unless it is something very fine I must strain. The thing sticks on pretty much any pot or pan I have and will mostly hold the items in if it isn't too full, even my large pot for noodles. The reason I use it instead of everything else is how easy it is to use and then to clean. My sink doesn't need to be empty to accommodate setting a strainer in it, this tool basically rinses clean with hot water and does not leave pasta bits and potato starches all over like the steel colander or the foldable one I have made of pretty much the same material. Certainly some water is left behind if there is a large volume of stuff in the pot, but setting it back on the hot burner that is now cooling takes care of this perfectly. The compact size of it makes it easy to store and again, to clean! Bonus: it fits the Instant Pot too

Great purchase. This Silicone Pot Strainer can be used in many recipes

The strainer is just perfect! I like it! Thanks!

Nice thing for a cooking moms, time saving

We use this as our default strainer now for all cooking, and we cook a lot. The only time we need to bust out the huge colanders is when we're cooking with our pot that has a large curved lip/flange all around the top that's about 1/2" wide. This only clips on to normal, thin pot rims. This fits very flexibly on large and small pots, and has held up great in the dishwasher, and takes up sop much less space in use, in cleaning, and in storage than the big colanders. Just great!

Perfect! Everything was fine

I am so happy I purchased this strainer. I was really tired of trying to lure an unsuspecting (yet hungry) family member to hold the strainer so I didn't burn my hands or dump the pasta or vegetables into the sink. This strainer is a time and aggravation saver. It's kind of small, so I wasn't sure I would like it, but it even works on my large (8 qt & up) pots. I have some Revere pots with the rolled lid and Kitchenaid that flare out a bit. The strainer works great on both. I have used this several times and it has never slipped off. I usually cook 1 pound of pasta at a time and it holds up well. I like the flexibility of the strainer to work with varied sizes .The other good thing is that this hardly takes up any space at all. There is some exposed metal (the clips). I have been hand washing immediately, vigorously shaking the water off and drying the exposed metal to prevent rusting. A worthwhile purchase!

Great processing time, no complaints! Highly recommended!!

Thanks a lot to store!! This is the best kitchen gadget i've purchased in a long time! I've tried it on several sized pots and pans and it's worked great each time. The first time i used it, I did tip the pan too fast and lost a couple of ravoli, so start draining your water slowly then when its almost out, tilt your pan more to get the remaining water out to avoid the issue of having food spill out with the water. Its so much easier than a traditional colander!! Even my skeptical husband loves it now. I've used it with Pasta, rice and even to drain grease out of meat-- works great each time! We use it so much that we recently bought more as gifts for family and friends because it's become our go-to item. I use it nearly everyday and it's holding up great.
Share
View full details
Collapsible content
SHIPPING

We will dispatch your order with in 24-Hours after confirmation of Payment

Fast & Free Expedited Shipping Guarantee Delivery in 2-4 Days
RETURNS

Buy confidently, we offer hassle free No Question Asked FREE returns. We will provide return Shipping label. START RETURN