If you order within
Arrives by
Regular price
$43.79 USD
Sale price
$36.49 USD
Unit price
per
Sale
Sold out
Power up your house cleaning
Brushing and scrubbing by hand can be tedious and tiring work. Clean deeper and quicker with our Portable Multi-Function Electric Cleaning Brush, which comes with three interchangeable heads to blast through grime, filth, and buildup for a speedier and more efficient clean.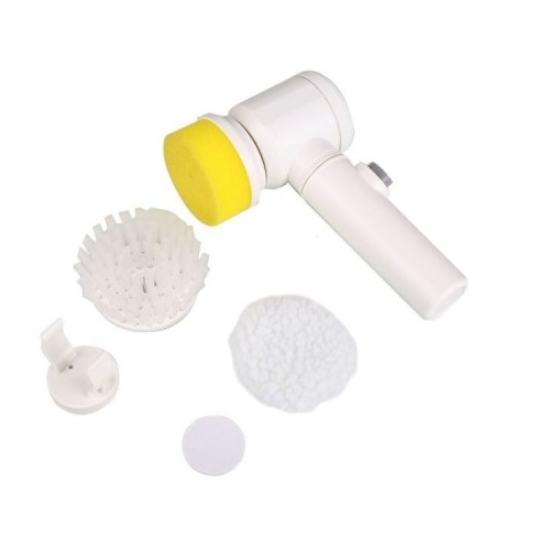 Say hello to your trio team
From kitchen counters to car exteriors and bathtub walls, our power device can clean efficiently with any liquid soap or cleaner -- all without scratches. The magic is in our interchangeable brush heads: the soft sponge brush head is suitable for cleaning fragile items like dishes and pans, the polyester-sherpa brush is suitable for cleaning surfaces like sofas and carpets, and the hard-nylon brush is best for cleaning kitchen counters and appliances, the bathtub, tiles, and harder surfaces.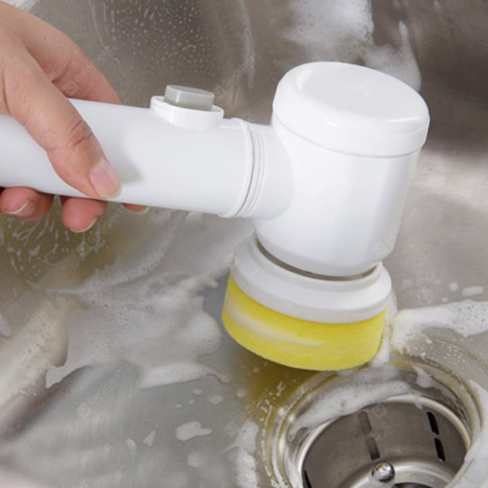 Grip + hold with ease
Goodbye hand pains and soreness. You won't experience any of that with our Portable Multi-Function Electric Cleaning Brush. An ergonomic, anti-slip handle brings you a secure and comfortable grip while cleaning; plus, a cordless design guarantees no twisting and turning as you maneuver tight spaces and corners.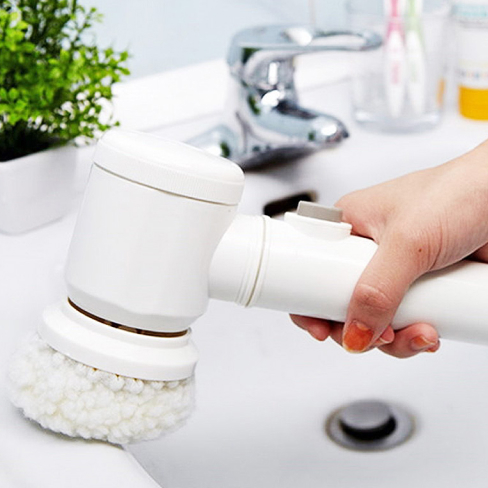 Strong + waterproof
Sturdy ABS plastic and nylon ensure this device can keep up with the grimiest of situations and cleaning jobs without fail. The device also works safely on wet surfaces without fear of device damage.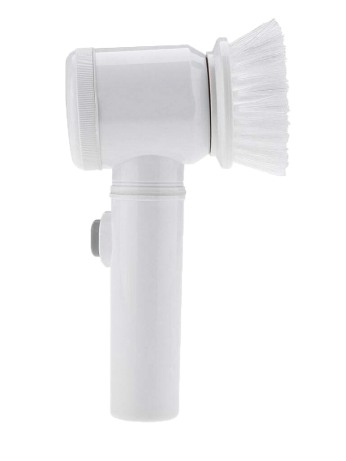 Just power up
All you need to get cleaning are four AA batteries (not included). The brush measures 4.7 x 7.8 in (L x W) for easy portability.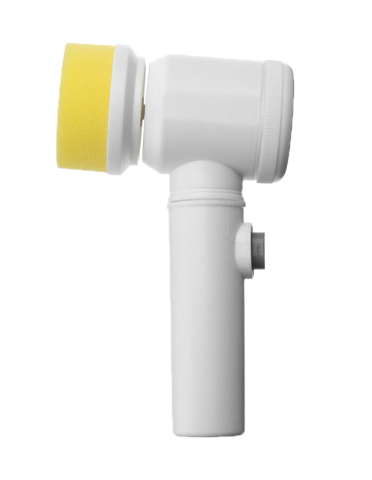 Reviews
Our reviews are verified for authenticity
I find it does save a lot of scrubbing time on a variety of surfaces. I've had mine for about a year and use it at least once a week. I use it on my floor to loosen up dirt around the edges before I mop. No longer down on my knees scrubbing the hard bits. Works well scrubbing around and behind the toilet, cleaning bathtub, walls, woodwork, stove, etc. I use it all the time. I love to use it to clean and polish without harming faucets or stainless steal. Rinse and dry them off and they look beautiful. Again, not high powered but I find very useful in cleaning areas that need extra scrubbing, it just quickins unpleasant jobs. Then I go play.

I don't like dealing with dishes. In order to thank those who do all of the dish washing in my household, I got this! They love it. It takes some of the pressure out of the washing and now the actual mechanical dishwasher can do what it's supposed to without the non-mechanical dishwashers pulling double or triple duty. If you've ever had to deal with pots where the so-called non-stick vanishes overnight and you have to give your wrist and hand exercise to get out what's stuck on the pot bottom, this is for you. If you've ever had to deal with those plates that seemed to magically hide away in some room where no one's supposed to be eating/have eaten and have stuff that's dried on for what almost seems like weeks but still has food sticking to the plate somehow, this is for you. If you've ever had to deal with those bowls where the person who ate cereal swore it was just 10m ago they ate it but the milk and cereal bits are stuck like glue to the bowl, this is for you. In most of these cases, you let the item sit in a bit of warm/hot, soapy water and wait and you get the contents out with a sponge. If you've ever had to deal with a situation where the sponge wasn't enough, after letting contents sit in some warm or hot soapy water, this is for you.

Works great, plenty of power. Exactly what I was looking for ! Purchased this brush over a month ago and it is even better. The handle is much smaller and easier to maneuver. The included brush head is more compact and can reach more corners in the bathroom than the older version. The included scouring head worked well on my grill grates. Would recommend this to anyone who does housework!

This product does exactly what it says. The tub and sink are so much easier to clean. I like the recharging base. I have to admit I really only use the brush attachment but I have had no issues. Bought one for my sister and she loves it too!

I typically clean my own bath tubs and showers by hand without a machine. So long as you do it often enough. Its hard work scrubbing the grout and tiles and glass. This Brush is a tool to help take the muscle out of the cleaning. I'm fairly impressed with this tool and it makes for a quicker less painful bathroom cleaning job . Nobody wants to do that job so whatever tool that helps get it done faster, is a great tool. At this price, I have to say there really isnt an excuse to not having this in your cleaning kit.

My shower has a texture on the floor that requires an inordinate amount of scrubbing to get clean, This little guy helps so much!

This scrubber saves me a lot of time and does a better job than using my hands alone. It's fast, has high torque, you can really push into whatever you are cleaning. Its fully waterproof, I've used it under running water with no problems. The hang charger is a nice touch, this way it dries faster and without placing pressure on the bristles. Overall it's a very good unit, I like it a lot.

I think this thing rocks. Powerful, recharging stand, easy. It's great for cleaning things where I would normally just live with the dirt and growth: sink grate, sink drain, and corners where the sink meets the counter. Up next: stove grates. It's also attractive enough to leave out by the sink.

Was very impressed with this brush! I purchased to clean our shower stall, but will use on many other items around the house. Pictures show the before and after of the corner shelf in our shower stall. No pictures of the rest of the shower stall because I'm embarrassed of how dirty it was. But the brush removed all of the orange soap scum that collected on the tiles with very little effort. Would definitely recommend.

The brush rotates at a good speed but high torque so you can really bear down on it for scrubbing soap scum from a shower base. The button is a little difficult to turn on/off which avoids acidentally turning it off during use. The packing is a convoluted plastic container that you have to cut off.

the scrubber works great but is a little hard to hold on to, I have arthritis, so I got this to help scrub my tub, I will keep trying.

This is a very useful device! I used to scrub my tile grout the good old fashioned way, on my knees with a toothbrush, and this handheld supercharged wireless scrub has made it sooo much easier to do the same job in a fraction of the time. It also has a sponge attachment that I used to clean some stains from our driveway and in the garage. Scrubbing takes practically no effort at all, I let the speed do the work and only need to apply a little bit of pressure for the really tough jobs. Definitely a lifesaver, I most definitely recommend.

I have three of those and gave three lady friends one too. I have an issue with enough electrical outlets and space in my old mobile home so it's so convenient to use batteries. The handle is certainly a plus and easy to hold. I must say the battery operated ones last longer than I thought they would. Mine haven't eaten batteries. I even travel with one since I house/pet sit and clean. You won't be disappointed with either one of these products. They are not made of cheap plastic that you will throw away after a month. Try it you'll like it.

Pros and Cons: Pros: -Powerful -Great battery life (never had it turn off on me while washing dishes) Cons: – I want another color. Pink maybe The review: My parents are getting older and cleaning dishes especially when they've been left out is becoming a challenge for them. They have trouble with their vision and aren't able to make sure that a pot is clean so more often than not, they reuse dirty pots and pans. I received my brush and immediately thought to put it to use in our household. The scrubber's motor is very powerful and all one would have to do is apply a bit of pressure to the pots and pans and the scrubber will do the rest. Now, the dishes in our household are much cleaner. The only concern we had while using it though was how hard it was pressing the power button. Overall though, this power scrubber is great. I'm not sure what we'd do without it.

It works well but some tough stains has to be soaked for a few minutes to help in the removal of really tough stains. But it beats using elbow grease. I do recommend it.

Great device, powerful. it cleans well. the only thing I think can be improved is the handle. the handle is not a handle and than can be improved a bit more to work as a handle, because it fatigues. Aside that good product, I recommend.

Original Review-This did not last a year before it started to seize up and make a lot of noise. It barely spins and cleans nothing. Update-Company contacted me and sent a new brush super fast. I look forward to using my new brush. Can't ask for better customer service!!!

Never have I been so happy and excited to do dishes. This brush is freaking awesome! I don't have to scrub or work hard at tough, stuck on foods on plates and pans. This brush does the work with some help from hot water in a breeze. I just love it.

I enjoyed cleaning my bathtub with this device. Also my kitchen!#momlife This handy device is my new best friend. Lol it cleaned about 95% of the hard to clean crap on the stove. Now believe it or not I know of some who will frown upon this mom using a tool to make her life easier (heaven forbid!), but you know what, work smart! Gives me more time to enjoy my kids instead of spending hours cleaning.

I love this brush! I literally use it everywhere! Bathtub, stove…… everywhere! It makes it so much easier to clean. One stoke over a surface is like 15 manually. Highly recommend!!!

Looks good,sounds good, trying my best not to use it. Trying to convince wife fits her hand better.

I was surprised by the power on this brush. When i first turned it on it did not look like it was spinning very fast. However it actually has a fair bit of power behind it so it is perfect for the jobs that require some elbow grease. We tried it on some tough stains on our shower grout and it took them off pretty easily. The bristles on the brush as very firm so are good for getting out tough stains It also comes with a sponge tip that can be used for pots other kitchen items. The brush is quite sturdy and solidly built.

Great little thing but it wreaks havoc on my arthritic fingers and wrists. In the end I had to give out to my mom because ithurt so much trying to control it. It would be nice if it had cushioned hand grips.

Flimsy and really is ok just for light surface use

Love this thing. Makes caked on crap a breeze to remove. Works great on soap scummy showers too. I've also used it to clean grout with excellent results

Has a lot of torque and doesnt slow down if you apply pressure like some scrubbers do. Absolute necessity if you're tired and your dishwasher sucks

This thing is pretty great. My only small complaint is that it doesn't have a ton of torque but for cleaning tile and stuff it is fine.

This thing is awesome. Can be used on anything that needs a scrubbing without actually scrubbing. Can be used paired with a steamer for cleaning hard surfaces.

My mom has always been lazy and hates cleaning. A few years ago she got hurt at work and now has knee, hip, and back problems. I got a pack of the yellow bristles and has been using them constantly. One of the biggest problem areas was the bathroom floor. She uses hairspray every day and dirt sticks to what falls on the floor. That has built up over years. With these brushes, it easily came off of the linoleum with no damage to the floor. Yellow brushes were perfect for cleaning and not causing damage to linoleum and plastic bathtub. I highly recommend this for people who are lazy, hate cleaning, or have any kind of disability that makes cleaning painful or difficult.

This product works great! It cleaned my super old tub that has lost most of its finish.

You guys…. My floor is a different color than I thought it was when I bought the place. I used an oxyclean/water mixture and let it sit for ~5 minutes, then went to town with the small drill brush. I thought it would brighten the brown grout a bit. I did not expect my grout to actually be beige under all that crud.

They work for their designed purpose but you have to put some pressure on it for deep cleaning; repetition didn't work with an uneven (grain) bathtub floor that was caked in old dirt. I eventually had to use a course scrubber BUT.. It worked very well on sinks and level surfaces with repetition. Glad I have it in my arsenal of cleaning supplies.

Wow I'm very pleased with the capabilities of this drill brush. I had my 10year old kitchen aid foster over . It had baked on caked on grease and you name it built up in it on it all over. I used bar keepers friend and with this drill brush and it blasted through the grease. I did have to move much the only thing I had to do was move the drill around other then that the drill brush did all the work. I would recommend this to everyone. This makes cleaning fun and easy.

With a scrubber, you expect more power. A mop head with a scrub brush gets the job done faster and does a better job on floors. Works well in spaces that a mop will not go. Still needs at least twice the power

This product made cleaning my grout effortless. I sprayed Simply Green on the grout line, let it sit for maybe 2 mins and then used the brush on it. Two quick swipes up the line and it was done. Previously, I was on my knees for quite some time and it was a lot of elbow grease with a brush! I can't wait to try this on the bathroom next. It attached easily to our drill (I may be the least mechanical female and I attached it) and a quick rinse and it was clean.

Cleaned the mister about of clean. Would have liked it to rotate faster . Was great for tight spaces . Like behind toilet where it hated to reach. Bought extra brushes for car .

How have I lived without this? I used the heads to clean my shower and my cabinet doors in my kitchen. I am using different heads for different areas of the house. My kitchen cabinets are painted and I was scared that the power of the drill with the coarse brush would take off the paint but it only happened once. It was my fault. I pushed way too hard and the drill went on its side and the base of the brush went on the cabinet. Oops. I love these. You need to buy.

This was a great buy. The brushes are very durable and wash out easily. I like the sizes and they can be used to clean so many things. One thing to note is that the bristles are fairly stiff and they would probably damage a surface if it's not durable enough. It's nice they came with quick release extension to attach to your drill, making it much easier to switch between each brush. I will definitely be buying another set down the road if these wear out.
Share
View full details
Collapsible content
SHIPPING

We will dispatch your order with in 24-Hours after confirmation of Payment

Fast & Free Expedited Shipping Guarantee Delivery in 2-4 Days
RETURNS

Buy confidently, we offer hassle free No Question Asked FREE returns. We will provide return Shipping label. START RETURN