If you order within
Arrives by
Regular price
$38.39 USD
Sale price
$31.99 USD
Unit price
per
Sale
Sold out
Suspendable Garbage Bag Dispenser
This compact car accessory is a must for people who want to keep their vehicle interior clean and effortlessly dispose of road trip garbage while traveling with friends and family.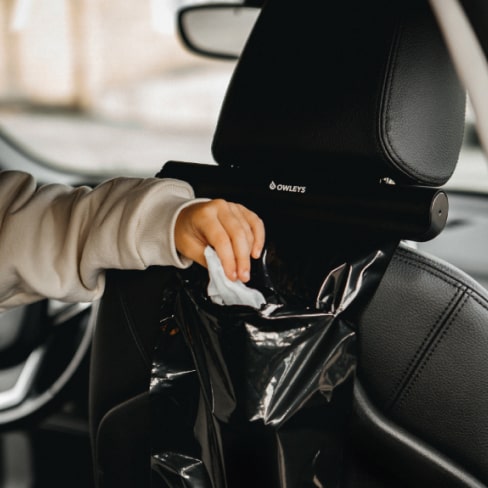 Keeping your car clean is easy with Owleys
Travel garbage is no longer a problem
No more car mess
Dirty wipes, empty bottles, peels, bar wrappers... Store it all conveniently in one place.
Simple use
Just turn the whee and pull the trash bag down. When the bag is full, tear it at the tear-off line.
Garbage bags included
Together with the dispenser, you get a roll of 20 thick and waterproof PE trash bags.
Forget travel stress
Let your smart and compact Owleys accessory take care of travel garbage while you enjoy the ride.
Keep it under control
Become a proud driver with a perfectly clean and well-organized car interior easily with Owleys.
Compact fit
This Owleys trash bag dispenser fits all car models. Lightweight and thin, it takes up minimal space for the convenience of both driver and passengers.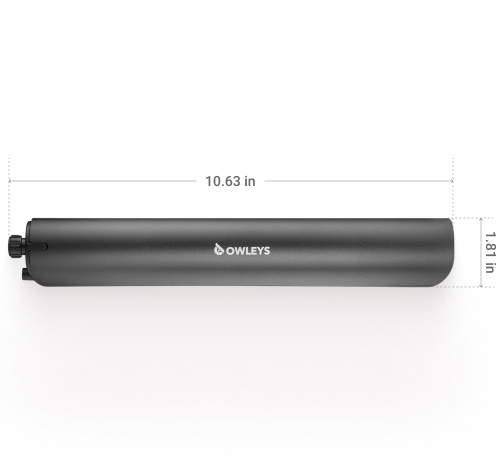 Say goodbye to car clutter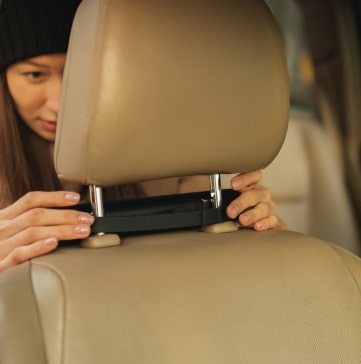 Easy installation
Attach the dispenser to the seat headrest or plastic surface anywhere in your car quickly and without additional tools.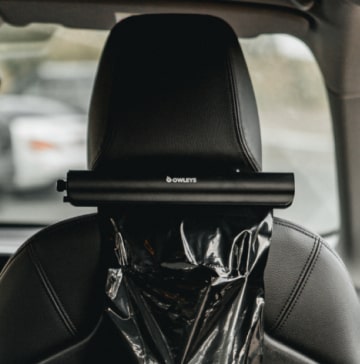 Sturdy design
A double structure and wheel on the side securely fix the bags - they won't unwind even when the bag is completely full.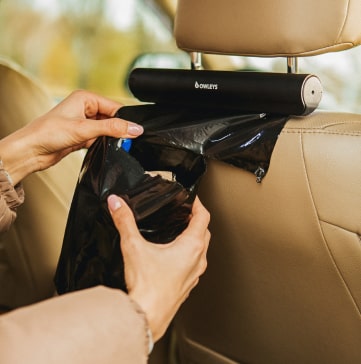 Top-quality materials
Made of aluminum and ABS plastic, the dispenser is durable and damage-proof. PE trash bags are non-toxic and BPA-free.
FAQs
Of course you can. Simply adjust the roll length with the wheel.
No, you can also attach it to any surface where the included strap will hold. But we recommend using a headrest as that is how this item was designed to be installed.
♻️Eco-friendly / 🇺🇸Made-in-USA / 👍Social Good
Reviews
Our reviews are verified for authenticity
looks nice and neat in the car, doesn't take up space. the dispenser seems to be quite sturdy, the top case is made of aluminum and the inside is plastic. we specially poured water into included trash bags, they're actually waterproof and ddin't leak. will use this on family road trips :))

super handy device for road trips!!

5 stars thank you everything as described!

Convenient, high-quality, compact garbage bag holder. Fast delivery

Everything is good, but I would like it to be wider .Looks too small for me .

This one is a really cool car trash bag dispenser! Sturdy, handy, stylish! The waterproof trash bags are the perfect size! 100% recommended!

this is a must have thing for every lover of cleanliness, got this for my wife's car she loves it!

Thick trash bags included. Convenient size and installation of the dispenser.

Comes with garbage bags of good quality, but if you have a large family, you will soon have to buy more.

Convenient accessory. Excellent quality, arrived with trash bags included. Stays in place well. I attached it to the headrest as I don't know where I can stick it.

I loved that the bags were already included

The perfect item when you want to save space and keep your car clean! A bit narrow, but does its job with an A+

The size is compact and I believe it will fit even a small car. The dispenser saves space and helps to get rid of road garbage easily. No issues found 👍🏻

excellent holder for garbage bags ,takes up little space in the car.trash bags are hold well even when fully loaded. attachment is super easy and firm.thanks

This trash bag holder is actually very compact and easy to use ! I have this for a month now and it stays on the headrest well . Thanks for quick delivery .

Just what you need for road trips with friends or family to keep your car clean ! Doesnt take up much space in the car and works great !

finally, empty bottles, coffee cups, chocolate wrappers and everything else has found their place on our family trips :) and for kids it's like a game! recommend ordering this

When I ordered this I didn't expect much, but it turned out that it is actually a very convenient garbage bag dispenser! Happy with the purchase and recommend ordering this!

stylish black colored dispenser, the case made of durable aluminium. garbage bags it comes with are of great quality, thick and waterproof. i'm very satisfied with my order :)

We loaded the trash bag completely with fruit peels, empty coffee cups, disposable tableware, and put in our son's broken toy robot. The dispenser withstood everything just tine! I absolutely recommend this!

Cool thing, you just tore off the garbage bag, threw it away and that's it - the car is perfectly clean! If you have kids who create chaos in the car, this is exactly what you need

Convenient for long trips, all the travel junk was in one place. After arrival, I tore off the bag and that's it! My wife and I are really satisfied. I recommend attaching it to the headrest.

Delivered quickly and was packed in a box. Easily attached it in my car. The aluminum dispenser is solid,hard to break.Hold garbage bags tightly. The size is suitable for any car. I've been using it for a week and I like it. Thank you.

Excellent quality! Tested it on our weekend trip. As we arriwed, the garbage bag was completely filled, but the dispenser didn't sag or anything! Such a sturdy, yet small device! Happy with my purchase and definitely recommend this trash bag dispenser

Really handy dispenser! Quick and easy to attach, and use. Looks nice in a black leather interior. The product came in a box, everything is unharmed. Fast delivery. I can recommend this seller and this product!

Takes up little space in the back seat, convenient for usage and driving with. Made of sturdy materials, aluminum outside and plastic inside... Garbage bags hold firmly and adjust easily from the side. In a black car interior, this dispenser will look just great.Thank you.

The order came with the dispenser itself and trash bags. I attached mine to the headrest, but there is also a sticky strip. Garbage bags are of good size and don't leak. Both bags and dispenser stay firmly in place while on the road. I would like to order the same garbage bags in the future.

Easily and firmly attached to the headrest, blends with the interior of the car just well with its minimalist black design. Got for my kids so they don't throw trash all over the car. The quality is excellent of both in the dispenser and the bags. I'm ordering one more for my husband's car.

Ordered this dispenser three weeks ago to use as car sickness bags. My daughter doesn't tolerate car trips very well. The fastening was convenient, the bags are adjustable with a wheel on the side, so you can use it when you need it. The bags themselves don' leak and don't let the smell through. We love it and will continue to use this dispenser! Thank you for a great and quality product!

The quality of this dispenser is excellent, it looks durable and beautiful. With a full bag of heavy garbage, it doesnt bend and the bags dont sag.Trash bags are waterproof. Perfect fit for the headrest of my Ford Focus. There is also an option to attach it to a adhesive strip, but I think it is more convenient to attach it to the headrest. So it can be removed or relocated at any time.

I have wanted one for a long time! My kids were scattered garbage all over the car. I tried using simple trash bags for home, but it was very inconvenient to store in the car… But this one is really handy! It comes with a roll of super strong trash bags, although not very big. Wil order another one as a gift for my mom's car! Thank you!

A super space-saving option for storing garbage on the road! This dispenser doesn't take up space at all, it's quite narrow and thin. The case is made of aluminum, which is why it's durable and holds the bags securely. Simple to use and attach. There are two installation options - to the headrest on a strap or on a self-adhesive strip. The second option is not very convenient for me, so I attached it to the headrest of the front passenger seat. The included garbage bags are strong and don't leak at all. I was pleasantly surprised by their quality. I hope that I can find the same bags and order them again as they run out. I think this dispenser is best suited for those who drive with kids or a large family. Someone who drives alone and doesn't usually have a lot of garbage it won't be very useful. If necessary, the dispenser is easy to remove, put in the glove box or seat back pocket and reattach again before traveling. The order arrived quickly and in a branded box. Very cute for a gift. All in all, great thing. Thank you!
Share
View full details
Collapsible content
SHIPPING

We will dispatch your order with in 24-Hours after confirmation of Payment

Fast & Free Expedited Shipping Guarantee Delivery in 2-4 Days
RETURNS

Buy confidently, we offer hassle free No Question Asked FREE returns. We will provide return Shipping label. START RETURN