If you order within
Arrives by
Regular price
$29.99 USD
Sale price
$24.99 USD
Unit price
per
Sale
Sold out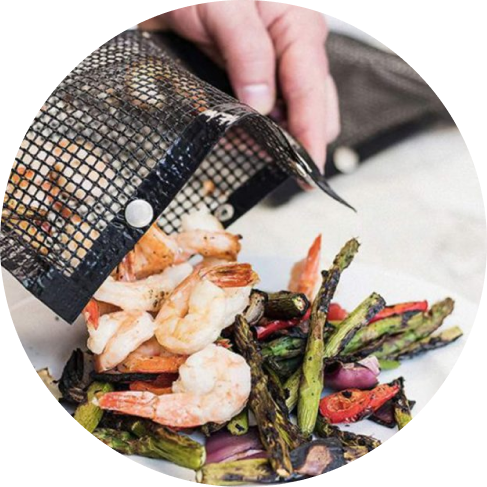 Lock flavor in. Keep greasy cleanup out.
If you regularly fire up the grill and enjoy entertaining family and friends with delicious grilled meat, seafood, and vegetables, you'll love the convenience of our Non-Stick Mesh Grill Bag. Up the ante on your grill game with something that maximizes your marinade and flavoring while minimizing painstaking post-grill cleanup.
Grill-safe. Flavor-approved.
Constructed from premium polytetrafluoroethylene (PTFE) material that is non-sticking and heat-resistant up to 600°F (316°C) to perform well on any grill. Just fill up with your chicken, steak, or shrimp and grill away -- no skewers required. The mesh bag design allows smoke to move easily throughout, for more evenly-flavored food.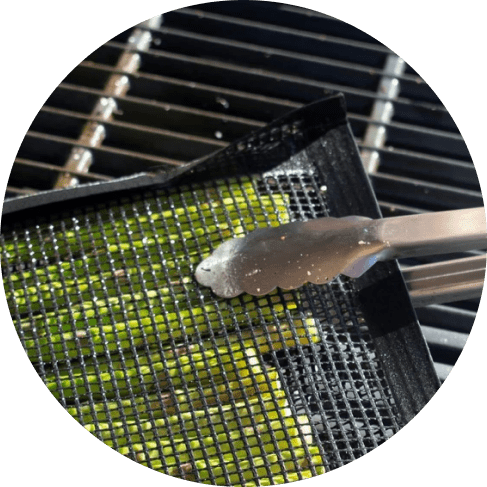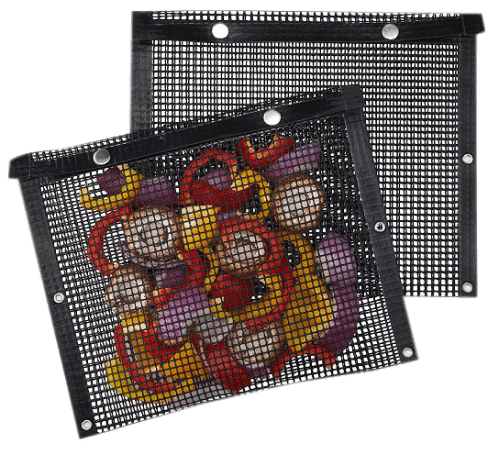 Minimized cleanup. More time to party.
Since all your food cooks within the mesh bag, your grill grates will have less grease, oil, and leftover sauce to wash off.
Reusable time after time.
Durable PTFE material ensures immaculate cooking; after grilling, just wash the mesh bag with liquid dish soap and water and dry. And wait till the next BBQ to use this again!
Choose from two bag sizes
Buy one size (or multiple) for your grilling needs. Our large-size bag measures 8.6 x 10.6 in while the small-sized bag measures 5.5 x 8.6 in. All measurements are in L x W. Different-sized bags are great ways to separate your meats from seafood and vegetables; they're also a great way to separate sauces and marinade flavors.
Reviews
Our reviews are verified for authenticity
These bags are amazing! I purchased two of them. One for my gas BBQ grill and one for my cast iron grill that sits on my gas stove in the house. The bags perform perfectly in both cooking formats and I couldn't be happier with them. I highly recommend these bags to anyone who grills or uses cast iron both indoor or outdoor! Show one at the photo.

Great size, easy to use, throw it in the dishwasher to clean. When I got this my hub was skeptical. On some things that tend to stick we used some veggie spray, the others threw them in the bags and had great grill roasted vegetables. The bags snap shut to prevent escapees. The packaging is not really gifty, but because it is relatively flat should be easy to wrap as is or put in a gift bag. Great for the BBQer in the family.

I never heard of a grill bag until recently. Since I just changed my grates, the thought of them getting all dirty again was horrible. I must say I am amazed that this bag performs how it does. My son said the food bbq'd was the best he ever tasted! I love it because I just wash it in the sink with warm soapy water even though it says I can put it in the dishwasher. Great investment.

This grill bag is for real. It eliminates the mess all over your grill, you can cook small items without them falling through the grill grates, it's non-stick, so you don't lose any meat that sticks to the grates and its super easy to clean. I can't believe I didn't know about these wonderful but simple bags in all my years of grilling. I don't think I will ever grill without them from now on! Worth every penny.

Where have these things been all my life??? These bags are amazing! Used them the first night that I got them and have used them several times since. They are super easy to clean and if you put them on a new grill it will always stay looking new. No more scraping the grill and putting the char dust all over the place. I have bought another bag for my folks. buy buy buy, they will make great gifts as well.

We got this in the middle of winter which clearly isn't peak grilling time but my husband is one of those guys who when he want's grilled food is willing to stand out there at the grill in like 10*F weather and grill his meat. Suffice it to say so far we have only used this once so far. In that one use, it worked great. It kept the grill a little cleaner and made sure nothing stuck to it which also made it easier to flip. The food cooked well and evenly while inside the bag and tasted good. It does say not for open flames so be careful not to use it over a high flame that will touch the bag. I'm assuming it handles heat but will still melt in a direct flame which would make it pretty useless. The price seems reasonable.

I first saw these bags on Facebook and thought " About time someone came up with an easy way to cook smaller items on a grill". Well, here it is. No more losing food through the gate.

These worked perfectly. They are thick, non-stick, and clean easily while still allowing good airflow which is key to the air fryer. I still have spare to use on my forced air grill outside. Time will tell how long they last.

I am in shock at how much I love this bag! There's zero grill clean up when you're finished. I've read the reviews where people claim it doesn't give the smoky flavor from their GAS grill. LOL. If you want a smoky flavor just toss in some wood chips, otherwise gas isn't going to give you that with or without this bag. Grilling has NEVER been this easy!

I didn't realize how small it was when I bought it. BUT It does the job well, I use it to roast garlic in my smoker, and it's the perfect size for that. I would consider buy a second one if I'm going to cook for more than 2 people.

Good quality and fair price. Fast delivery. Thanks. Not cooked yet, but soon I will!

Let's start out with I was skeptical about these things. Everyone has seen the infomercials and we all know how thing seems. Well, I decided to get one to try it out. Well worth the money. I have a 6 burner Ducane Stainless. This was the first grill I tried it on. After heating up the grill, I put in the bag some chicken, ribs, and hot dogs. To my surprise, it cooked them well. It truly cooked everything well.

They are a little small. And if you put too much in it, it will fall out. I should've gotten the ones with the snap.

Works great to keep the grill clean.

This is a great product. I love my veggies BBQ'd too. The best part is its dishwasher safe. Recommend.

We grill multiple times a week, year-round, and I was looking for bags that would make for easy cleanup. I have been using the new bag for several weeks and it cleans up and look like the day they arrived. So pleased with this product. I would definitely order it again but think it will be a long time before I will need to.

Initially loved them- very easy to clean and use, perfect for grilling veggies for 2. After a couple months of moderate use, the edging on one bag came completely off- looks like ribbon when it detached. I was hoping for better durability.

I love my new grill bag! It`s very tough. The instructions say not to over-expose it to open flame, but I get a little fire-happy with my grilling and so far so good, no problems with a burnt bag in my grill or food! No damage to the bag at all. I was a bit worried about the smoky grill flavor not being as prevalent without setting the meat directly on the metal. I shouldn't have worried however as the smoky goodness was just as strong as ever. Very happy with my purchase and would def recommend it.

This non-stick grill mesh bag is so great! We bought it to use on our grill. Instead (for now!) we use these in our oven to roast veggies, and they work great! Nothing falls through, and the veggies roast evenly, without needing to be turned much since the bag has the tiny mesh holes. This is sturdy, well made, and my favorite part, dishwasher safe, and easy to clean!! I highly recommend!

I just got this two days ago and have used it twice. I have had zero issues, cooked sliced mushrooms right on the grill, scallops, cherry tomatoes, and I don't worry about a thing falling through. Nothing sticks. Cleanup takes two seconds. I love this thing!

I bought this product several weeks ago and have used it almost every day since. Vegetables, chicken, steak, and potatoes have all worked really well on this mat. The really nice thing is that I don't have to clean up afterward. The mat fits well in our dishwasher which was something that I was worried about before I bought it. Five-star rating for sure!!

Easy to use. Worked great on the BBQ. I Had veggies and a chicken in the bag. Easy to clean and store.

I've used it for about 6 or 7 times so far. I've had no early durability issues, no difference of taste and clean up is very easy. I wash it off with warm water and take a sponge with dish soap and clean it off. takes about a minute or two. I've used this with salmon, chicken, hamburgers, and steaks. I bought this bag because I've used heavily used the grill I have for the last 4 years and instead of buying a new one due to much wear I decided to try these. I'm glad I did. I was skeptical at first, but I gave it a shot.

These things are great! Instead of having to flip each veggie independently you can do the whole swoop! The only down side and reason for 4 stars is that if your veggies are cut too thick, the end doesn't close and you could lose some of your yum yums

I use this bag for doing seafood on the grill. Never a problem flipping things over or sticking to the grill. However I wish it had a clamp to keep the bag shut. I tried using a metal paper binder clip. Large ones work best but are LARGE. small ones slipped off. .

Bought three of these, have already used for veggies and fish. Works great!

Smaller than we thought since we cook in larger quantities but serves the purpose for smaller veggies and foods.

The Medium and Large Non-Stick Grilling Bag, BBQ Grill Accessories with High Temperature Resistance for Outdoor Grill or Oven, BBQ Baking Bags. Each pack comes with a (20 cm x 30 cm) medium and (30cm x 40cm) large grilling bags to provide you with a simple and convenient way to bake or grill food to create delicious masterpieces while keeping your grill clean and prevents any sticking along with boosting their flavor Made using PTFE Coated Fiberglass, our reusable grill bags are durable enough to handle daily use and offer high-temperature resistance from -40 to 500 °F without relying on any harsh chemicals, additives or plastics. This is a nice quality product and I give it a 4-stars rating.

Good quality product. Size is not very big, but it's perfect for a family of 3 for vegetables. My suggestion: get 2 of them.

This was perfect for what we needed, cooking our meat with no mess, and veggies without them falling through!! Super easy to clean too, highly recommended!!

Very sturdy, excellent quality bag. It'll surely last a long time. Exactly what I needed to cook jalapeños and smaller veggies on the grill!

The goods came quickly. Corresponds to the description. Very convenient thing, especially for cooking vegetables. I recommend this product!

Mesh bags are very sturdy and easy to snap close. Wonderful to be able to turn all vegetables over at one time. When done just rinse in hot water and reuse. Great time-saving item!

Looks solid, so I am looking forward to spring barbeque time to test it! Special thanks for fast shipping and good packaging!

This product was easy to use and easy to clean. I used it to cook veggies in my smoker. It worked beautifully! The mesh is small enough that the veggies did not fall thru. Bought another as a gift!

Super fast delivery. Good quality and looks as described. It seems to be solid. Waiting for the bbq season now. Thanks for the good product!

This grill bag is far superior to the garbage ones I have used in the past. The first time I used it, it was so obvious to see. The nonstick properties of this are so much better. And the fact this can be used up to 600 degrees is also an added perk. I have already ordered a second bag to send to my brother, who is also an avid griller.
Share
View full details
Collapsible content
SHIPPING

We will dispatch your order with in 24-Hours after confirmation of Payment

Fast & Free Expedited Shipping Guarantee Delivery in 2-4 Days
RETURNS

Buy confidently, we offer hassle free No Question Asked FREE returns. We will provide return Shipping label. START RETURN