If you order within
Arrives by
Regular price
$53.99 USD
Sale price
$44.99 USD
Unit price
per
Sale
Sold out
It's a beautiful day outside
On those summer nights and hot sunny afternoons, there's nothing greater than finding your solace and escape in a hammock under the shade of some tall, shady trees. However, ever too often, that peace and serenity is disrupted by pesky mosquitoes. When sprays and repellents don't do the trick, maybe it's time to upgrade your lounging space. Say hello to our Hammock With Mosquito Net.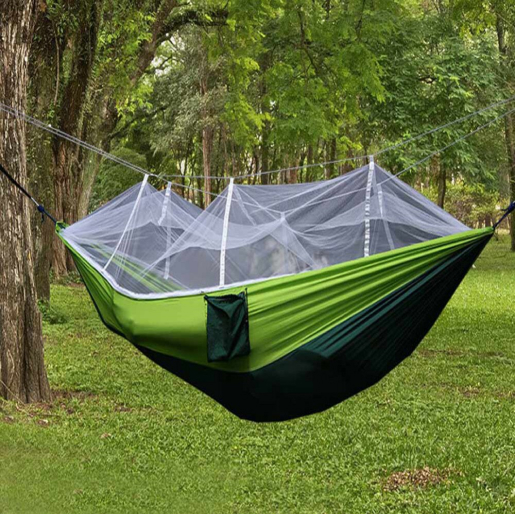 Take and set up anywhere
Foldable into an included carrying bag and clocking in at just 25oz in weight, our easy-to-carry hammock can go anywhere with you, from the great outdoors up in the mountains to the exotic getaways of the tropics.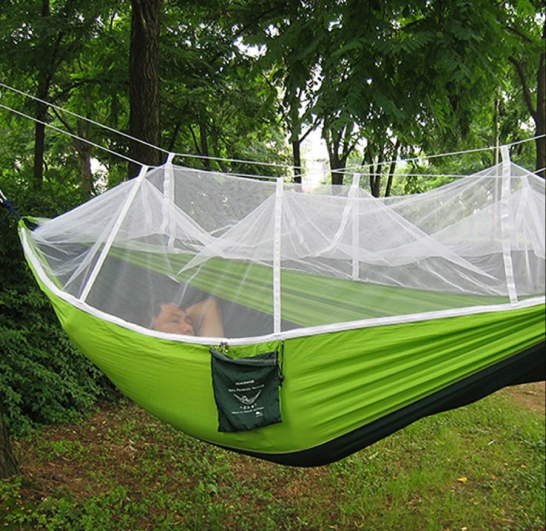 Over 1,000 pounds of bearing support
Hook and tie your hammock up on trees, between building pillars, and any place sturdy for up to 1,320 pounds of support.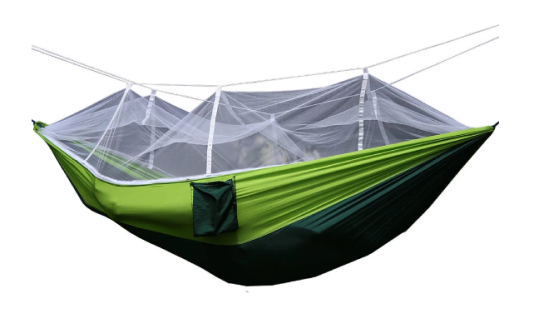 Block out mosquitos with a built-in net
Our hammock's overhead shield mesh net ensures annoying mosquitoes cannot disturb you as you lounge on your smartphone, iPad, or lay out with a book. Our mesh is zippered, meaning you can open and close the mesh covering as much as you want. There's no need for an extra awning or shields (or any more bug repellent).
Built for adventure. Made for performance.
Our hammock is constructed out of heavy-duty 210T parachute-grade nylon, for dependable support whether you're higher up between two towering trees or closer to the ground between a palm tree and beach house pillar. When fully set up, the hammock measures 4.6 x 8.53 ft / 140 x 260cm ( L x W). When occupied, the hammock supports up to 440 pounds.
Everything you need for installation
When you buy our Hammock With Mosquito Net, you get a set that's ready to install. Each purchase includes:
One (1) storage bag
Two (2) steel D-ring carabiner clips
Two (2) 157.5-inch support ropes
Two (2) 78.7-inch flat ropes
One (1) hammock with built-in anti-mosquito net
Reviews
Our reviews are verified for authenticity
I bought one of these back in June. I used it this past weekend, and love it. It was without a doubt the best nights sleeping I've had in a long time and if I can figure out a way to put one up in my house I'll use it there too. It's light weight, kept my big ass up and comfy. A couple things to note about hammocks is that you need some sort of insulation underneath you. I used a self inflating pad and covered myself with a poncho and poncho liner. The temps where I was at dipped down into the mid 50s and I was very comfy. Take a lightweight tarp along too just in case it rains, which it did where I was. These are the hot set up, worked great.

Best mosquito hammockbout there for the money. Hammock very solid. Used it for 2 weeks out in the Mountains. One thing, be very careful, to give the mosquito netting enough slack so if you get in hammock and hammock not string tight it doesn't rip out. Best to attach meeting to your hammock line so then bend together. Just a great solid hammock! Packs up nice n small too!

I just received the jungle hammock today and I haven't had a chance to set it up completely. I will update the review once I've done that. This is a review of my first impressions. First, it's triple stitched. Definitely happy about that and the stitching looks good. Next, the netting looks good, there's a warning about setup when pitching the ridge line for the netting to not have it too far away from the hammock as it will rip the loops off. The loops are made from the same netting so yes it would be easy to rip them off. I'm going to put some pictures with this review and add more later once I get it into the woods and hanged. Burt so far I am happy with this hammock.

The mosquito net seems really lightweight, "too" lightweight but it has stood up to my abuse so far. The mesh is fine enough no bugs will be getting through. The attached stuff bag turned inside out one time and the loose fabric of the stitched edges of the bag snagged on brush, resulting in this really fine nylon thread raveling off. Other than that is has been a good one, you just need to make sure you have nothing sharp in your pockets or on you or you'll rip it up. If you want ultralight gear you have to deal with ultralight materials, use your head! I'm 6' tall and once in it I have a foot of room above my head and at least a foot below my feet, just enough room to not be in the "pinch" area where the hammock meets the clip. Inside there are a couple pockets for a light, your glasses or whatever you may want to have handy. You might want to pick up a couple straps if you don't want the paracord they provide to cut into the trees you set up on, and have some paracord for the mosquito netting if you like having one-piece lines running full length parallel with the hammock. I put sticks between the tabs to help the net stand out to help give more room. They include tie-out lines with adjusters, you can tie them together to make lines long enough to work. All in all I like this hammock, my "ultralight" kit which has a lot of crap in it runs under 21 lbs.and my back is very thankful. My traditional pack loaded out is pushing 43 lbs.

I love this hammock for the price. The bug net is great and would never do hammock camping without as I would otherwise be eaten alive by mosquitos. I'm 5'10" and the hammock is roomy enough for me with a 0 degree sleeping bag. I like the pockets inside as well as they work for small items like my glasses. Larger items I place in the stuff sack which hangs outside. I've even had both my wife and I in the hammock, and it works though I wouldn't sleep like that as it is tight. I do not use the straps that came with it and recommend getting different straps

Love it, keeps bugs out completely. I did make new tree straps but the cordage straps that come with it did work. Used many times, as well as on the Appalachian Trail through the State of Georgia in 2017. Great price!

I have had this hammock for couple of years now and it has held up great, everything still functions perfectly. I tend to use the mosquito netting side when it's warm out and then flip it over in the fall and winter when I don't have to worry about bugs. Overall it's a quality piece of kit that I enjoy very much. Buying another piece no as our son is old enough to sleep in his own hammock)

I purchased this hammock recently for use backpacking and camping. It arrived in good condition, and on time. Quality is very good. I have not brought it on an actual trip yet, but I did set it up in the backyard to test it out. The fabric, while thin and lightweight, does seem very durable. I am about 200 lbs and while the hammock did sink a little when got in it, it felt very strong and supported my weight with no issue. I used elastic straps to tie the netting to the suspension system as some comments suggested. I feel this made it mush easier not to worry about there being too much tension on the hanging loops and netting.

The hardware and cordage provided for hanging was very good. The D-Rings were heavy duty, and very sturdy, and the knotted ropes for hanging the hammock make adjusting height and tension very easy. I was able to set up the hammock and suspend the netting perfectly fine with the materials provided. One person can set this up very easily. Overall, I am very pleased with this purchase, especially for the price. If you are thinking about purchasing this, i highly recommend it.

I am 266 lbs and it holds me great. I was attacked by a raccoon the first time I slept in it but survived. Will make it a little higher off the ground next time.

I am very pleased with this hammock. I was perfect for my first overnight hammock camp, & I'm learning what works best with it. Well constructed. Embarrassing as it is...I flipped in it & wound up on the ground in the bug net. I was sure I would shred it trying to get up & out. But, once I finally did get out & looked everything over, it was fully intact. I thought the zipper would pull apart because the edge of the hammock was what i pulled on to get out. I'm really happy with this hammock. Is it the last hammock I'll own...no, but I'm glad it's the first.

This hammock keeps the mosquitoes off of you. I haven't had any tears or rips in it, because I set it up right. Make sure you don't put the mosquito net too high when you are setting it up and you should be ok. Set it low and it will stretch out when you lay in it. If you are paranoid about ripping the netting, I would suggest switching the paracord to elastic cord, so it'll give more than it already does. It's plenty big enough (5'10"). I'm not scared about it breaking (180lbs), because people over 350 have used this thing with no problems. I have felt a couple of mosquitoes biting through the bottom of the hammock, but I put a fleece sheet on the bottom and they can't get through it. I have only slept in it once, and I had a hard time getting comfortable. I think this was a user issue. After watching a couple of youtube videos on how to sleep in a hammock, I feel confident that it won't be a problem next time.

for the price this is a really good camping/hiking hammock. Simple to setup up but you will need appropriate trees to hang the cords that hold the netting up. There are two rows of tabs that are on each side of the main line that have to be attached to something other than the trunk you are using for the main hammock. I like the caribiners that came with it, makes hanging the cord easy. Don't think I'd take it on the AT but for short trips, it works.

I really like this hammock. It packs down very small, weighs very little, and the netting is perfect to keep bugs off of you. The included cords for attaching to the trees worked just fine. I was worried I'd want a set of separate tree straps, but after using this I felt satisfied with the included cords. Be careful not to get the cords that suspend the netting too tight or you will rip the netting when you get in. I read enough reviews that I was aware of this ahead of time so I hung it accordingly. Using a little bit of bungee cord in the netting suspension cords would be a good idea to keep it tight but keep it from tearing.

I'm sure if you wanted to fork over a lot of money for a better hammock you will find one but this one for the price is the best. It is very comfortable and spacious inside. It easily sets up in less than ten minutes especially if you buy the Hammock Bliss Tree Straps with it. It is compact and comes with its own carrying case and two carabineers on each side for easy set up. The Mosquito netting works great not a single Mosquito/bug got inside of mine. I can understand some of the other reviews saying that the netting is not great and easily torn but if you read the directions and hang it as directed it WONT tear. This product is amazing and would highly recommend to others!

I have gone back country camping once with this hammock and I have been hanging it up in my backyard on calm nights, my son loves it. The mosquito net is awesome. It's easy to put together (although I never figured out how to use the paracord segments that are supposed to be used to hold up your net, but I just used some extra paracord I had). It comes with this pre-knotted paracord segment. It's knotted every 3 inches or so. all you really have to do is wrap this around a tree and then find the proper knot to insert your hook. The great thing is that you don't have to sit around and mess with a bunch of cord or rope and this pre-knotted paracord will never get tangled and you don't have to tie any knots! So it make setting up the hammock quick and easy.

Quality hammock for a fair price ! I'm a 250 lbs man and this handles my weight like a champ ! Easy to setup and take down and as long as you make a the ridge line for the bug net connect to the carabiners you'll never have any issues with ripping the bugnet support tabs~ Great beginner hammock that you'll love even as a more experienced hanger !

Fast shipping, simple packaging. I love the way it all fits all into a small pouch sewed onto the hammock so you can never lose it! Recently used it on a 3 day camping adventure. The para-cord tie straps worked good, there was a little bit of stretching at first but nothing a little readjusting can't fix. I was a little scared sitting in the hammock at first (was my first time ever sitting in a hammock) it felt like I was going to rip it. I got over that hesitation real quick. I would recommend this product to anyone who is in the market for a great quality built hammock!!

This was for my son- he actually bought it. You do need to pay attention to hanging it correctly and high enough so you once you sit and lay down in it you don't stretch the screen and it breaks. My son is only 90 lbs so I can imagine how that can happen with a grown man. It's easy to set up - my son is 12 and had no problems - just needed to make a few adjustments at first. Great hammock!

I bought this hammock for a friend who really liked the hammock I take backpacking. He loves it. Had no problems with the size or weight. I did read reviews before purchasing and told him to be careful to leave some slack in the Mosquito Net to insure he did not rip the loops designed to keep the netting off your face. He took it out on our two night backpacking trip and it held up just as good as my brand name hammock.

Only used once, but so far it was great. It goes up very fast and easy - the knot system is clever and simple. Seemed quite durable and held up well. I am not sure about the breathability because I was camping on a very still and humid night in the tropics. I don't see this thing ripping or breaking at all. We even slept with two people in one at one point, probably around 280 lbs. It was actually really comfortable for two...more comfortable than alone, actually, but I personally can never really get comfortable in any hammock, due to lower back issues. It does seem a little bit bulky for backpacking, but I am taking mine on a month long trip. Overall, I recommend this one, definitely.

It's been on around 10 weekend trips with me this year and I've never been more comfortable in the wilderness. This is my first camping hammock as I've always tent camped. I have to say I'm glad I made the switch to hammocks and this very hammock will be the reason for it. Although I did upgrade the straps just to make setup a little bit simpler. The bug net is a little thin so be careful during setup or you risk ripping the net when you enter the hammock. But with a little practice you can get setup down to an art form. Overall I would suggest the hammock to anyone wanting to enter the world of hammock camping and doesn't want to break the bank

I love the netting that zips around you to keep the bugs away. The hammock is comfortable and sturdy.

I do a lot of "bivouac" camping (courtesy of the Army) and dont usually have space to pack any sort of tentage other than a poncho so I thought I would give this a try seeing as how I've had a lot of back problems over the past few years. I tried it out a couple weeks back for the first time during a field exercise in a heavily wooded area surrounded by water. The mosquitos were out with a vengance so it was nice to be able to jump in this at night and not have to worry about them. Setup was easy and thanks to the other reviews I knew not to tie the net off too high so it didn't tear. I ended up connecting the net strings to bungee cords to give them a little flex. I would definitely recommend this hammock to anyone who does a lot of backpacking. It tears down and packs away into the connected bag very easily (unlike any tent I have ever owned).

Goes up fast, comfortable, light, and compact. Just get a rain fly (Nylon tarp) and you are good to go.

I'm a big boy (290+) and it held me easily for the two nights I've used it. It was very easy to assemble and extremely comfortable.

I used my hammock on a trip in the amazon jungle of Ecuador and the bug net protected wonderfully against bugs and critters. It is also extremely comfy and easy to set up. It's a steal because this hammock is comfortable like enos and easy to set up like enos but is so much less expensive! If you dont want to use the net just flip over the hammock. Fool proof to set up, sturdy, and easy to pack up, comes with everything you need! I am 5'8" and 130 lbs and it's incredibly sturdy, but not sure how it would be with someone heavier!

I own a few hammocks, but, I must say, this hammock is GREAT!!! The only change I would make to it, is the zippers. I would use aluminum zippers instead if plastic. don't worry, it's still a great investment and you'll love it... buy, two or three. you'll be glad you did...

Great camping hammock and it keeps the "skeeters" at bay. I upgraded mine with some heavy duty hammock straps, as the 550 cord, while it worked, was not as user friendly as regular heavy duty hammock straps. Very good product for the price though.

I've been sleeping in it every night for a week and it shows no sign of stretching or ripping around the bug netting like I've heard in other reviews. It's made out of a sturdy and breathable material that really holds up under weight. It's very roomy even though I'm close to 6' and I haven't had any trouble fitting myself, a blanket, and a pillow in it.

I was considering buying one of those expensive ones and decided that I would try out one that wasn't 400 bucks instead, set it up layed in it watched the mosquitoes try to come in, great lightweight product, don't waste your money one something that is essentially simple. The carabiners are steel and thus a bit heavy so I will switch them out, other than that get yourself a rain fly and enjoy a comfortable camping experience swaying in the air!

the jungle hammock is a great way to camp it is a well made product easy to set up and take down

this thing is amazing. I am a large guy and it accommodates me with extra space. sets up in a couple minutes esp. with tree straps. add a waterproof tarp and you are truly good to go.

I like my hammock. Small in stature and build, I find this hammock most comfortable. Haven't used it in a camping situation yet, but do hang it between trees in the yard and enjoy the cool fall weather. I don't have a rain fly yet, but that is coming, and will just protect me from wind and rain. The way it is right now, it suits me just fine, and I don't ited so long to order it. If you are considering getting one, quit reading and order it, You won't regret it.

Bought it for my 18yr.old grandson for his birthday....he loves it!! He's a big guy and he has plenty of room in it and it's sturdy and very easy to put back in the pouch!!

Excellent product! Just as described. I have used it three times now for camping and enjoyed it every time. Plan on ordering more for the fam

Pretty decent hammock for the price. I don't believe it's a true double as the title states, but it fit me fine (5'9' 170lbs). The built in mosquito net came in very handy although the zipper is not that high quality. It separated a couple of times but I was able to get it back together. The built in pouch is nice too because you can use it to store things in, like your headlamp for those late night bathroom trips.

We use our camping hammocks a lot. We have a few because the whole family enjoys laying in them. It is definitely a single person hammock. My kids have been using it for a couple days now and its holding up great. The quality seems great especially for the price. Our other hammocks cost much more so I was happy with price. This hammock does come with some basic straps to hang the hammock with but they are not as easy to use as some other ones we have. Overall we are very happy with the hammock.

Great product over all, but the ropes it came with weren't good and they were white and not green. yet the hammock itself is very light and durable and the net is also a very nice touch, payed in it the whole day I got it and seems to hold up fine. I'd recommend getting new ropes for it though.

Easy to set up, great for the price, fun for camping or hanging out in the backyard, net is permanently attached however so you can unzip it but you can't fully detach it.

Got what I payed for I like the net but the short ropes with no length option made me have to buy a strap. The fabric seems thin time will tell how it holds up. The design is good .

Love the bug net, zipper closer worked well. Hammock is super lightweight and compact, very comfortable (as hammocks are). My only complaint is that the straps were too short, and didn't seem very strong. If you bought other straps, this could be a pretty decent hammock for not a lot of money.

Used this hammock for 4 nights in the Olympic Nation Park, it was light, easy to set up, and very comfortable. I'd give it 5 stars but the tree straps that come with it are a little jinky and too short for most trees in Western Washington. Before I went on my trip I ordered different 20' long straps.

I hit the ground at 1am. Lol you definitely need to buy better straps. These don't work.

it's pretty uncomfortable if you're actually trying to sleep two small people in it. it seems pretty sturdy though.
Share
View full details
Collapsible content
SHIPPING

We will dispatch your order with in 24-Hours after confirmation of Payment

Fast & Free Expedited Shipping Guarantee Delivery in 2-4 Days
RETURNS

Buy confidently, we offer hassle free No Question Asked FREE returns. We will provide return Shipping label. START RETURN