If you order within
Arrives by
Regular price
$32.39 USD
Sale price
$26.99 USD
Unit price
per
Sale
Sold out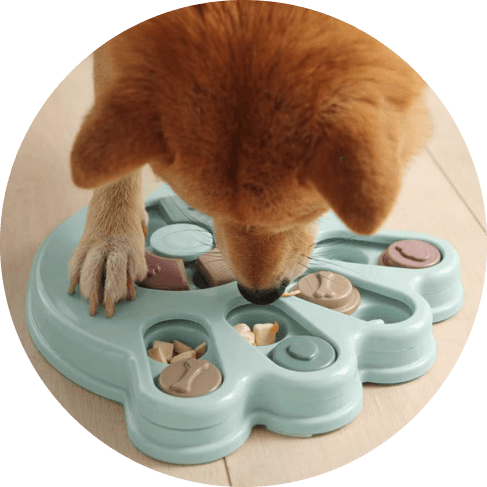 Test your dog's intelligence with a food game
Try and find the snack or food. Our Interactive Dog Puzzle Toy makes meal time more engaging for your furry little four-legged friend. Multi-shaped puzzle blocks cover bite-sized servings of food for interactive fun that can build cognitive skills in your pet.
Safe for chewing, safe for eating
Constructed of thickened PP thermoplastic, the puzzle pieces and bowl of our puzzle toy are safe for exploratory chewing and licking as your pet embarks on uncovering his or her food. Plus, the bite-sized feeding portion space means your pet can eat slower and more paced to avoid choking or an upset stomach.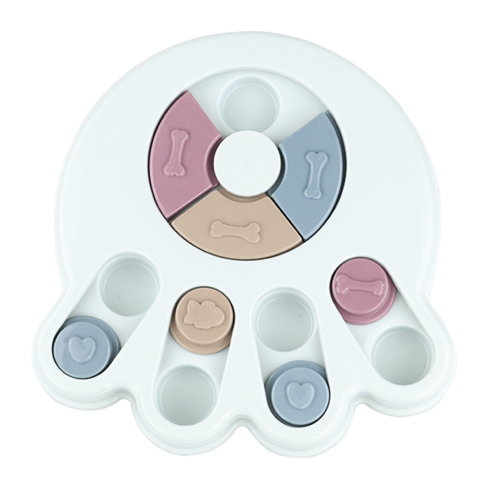 Stable + secure build
Each bowl is built with care; non-slip pads at the bowl bio prevent scraping the floor or sliding during use, while sturdy built-in screws within the bowl ensure the bowl doesn't fall apart from continuous use and toying around with.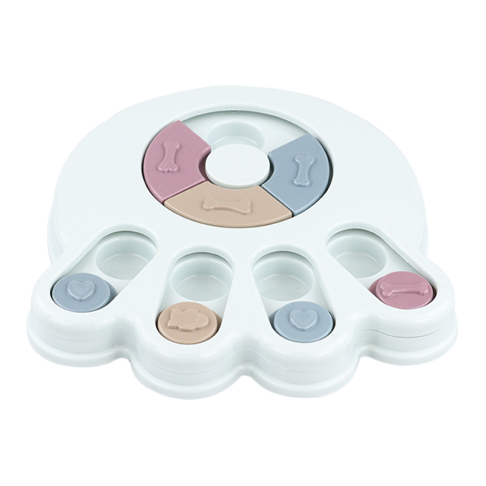 Reviews
Our reviews are verified for authenticity
My dog LOVES this toy. Even after he's already had dinner, he is still asking to play. I am uploading new video bc it's much better now that he's gotten familiar with it and understands how it works.

I bought this as a mind teaser for my bunny. It isn't made of untreated wood, so I have to watch when my bun is playing with it, but he loves it. Even gets a little dig time with it to move the covers around.

My little dog basically sat in the middle of this and then took a nap. He had no interest in this. I gave it to my daughter who has a medium size dog. He went to town trying to get the treats out of the puzzle. He could move the pieces and eat up. There are some extra pieces in case one breaks. You do have to screw them in from the botton to keep them in place correctly.

My breeder recommended it for my 4 month old Australian Shepherd who is recovering from a broken elbow to keep his mind and training up. I was afraid to would be too challenging for him, but he took to it right away!. He finds all the treats in less than a few minutes. Takes him longer to eat the treats than to find them! It's a great price too! Similar products are twice the price and made of cheap plastic my puppy would chew through in an instant.

Nice toy. Plastic quality, colors as in the picture. The buttons are too easy to move, the dog eats everything in a minute. Good size. Loved this product! Kept the pup entertained for longer than other toys. Helped build up her confidence and co ordination . We used training treats, dog biscuits and frozen water & fruit.

I wasn't sure if my dog would have anything to do with this. I put treats in it and set it by my dog's bed. I adopted him after he was rescued from a hoarding situation so he really hasn't had toys to play with. I've had to teach him how to play with them. I noticed the freebie treats were gone one day and checked the rest of the puzzle. All gone! I was amazed. Filled it back up and left it for a few days. Empty again. Now I've watched him do it and it's so funny. I'm going to try to get a video of it. He's a 15lb chiweenie. Half chihuahua half dachshund and much smarter than I gave him credit. lol

Thank you very much for the goods! My dog is delighted)) the truth gets all the delicious in minutes, but the search continues. The toy exactly as in the photo, fully corresponds to the description

I love my dog more than life itself. He's a rescue so not sure of his age. We think 15 (going on 3). Bought this puzzle hoping he would have fun and use it. Had no clue how fast he took to it. He's not the most 'intelligent' so I wondered but he got the treats so fast. He hasn't used his paws yet to move the pieces around, just uses his nose, but he's doing it. Everytime he gets one I cheer for him and his tail wags like crazy and he continues on. He love his puzzle. I can't wait to get him more so that he will get that brain going when I'm at work during the day (even though he'd probably play with it before I am even out of the driveway)

Super Bowl for dog! Dog has super fun and addressing;) thank you

Very funny, sections work perfectly

My Border Collie, Grace, just loves this "toy." Dogs like Grace need constant mental, physical, and emotional stimulation and this thing helps for a few minutes in the evening. She has learned to check index every one, looking for a treat. When she finds one, she not only gets a treat, but she gets our praise. She has learned to use both her nose and her paw to manipulate the rounds. It is well built and heavy enough that it stays in place when Grace is playing with it. Because she still chews everything, after a few games, we take it up off the floor. Wonderful toy and I'm highly recommending.

The toy is super! My dog is delighted, all night I only feed from her and ate. We were very excited to watch, too. Recommend!

good quality, arrived fast, dog enjoys it :D but it took 1 min to understand toy and another minute to eat all treats

The toy was a little more than I imagined. It was packed in a cardboard box, and in a puppy, so it came whole and unstable. The segments are very easy to close and open, the dog in 5 minutes has time to open-close 10 times, hoping that he somewhere missed the tasty)

Everything is super, the dog is happy, quickly figured out everything, continues to look for food for a while after it ended. The bottom is rubberized, but it does not help much

The package went 29 days. Packed well, no foreign smells. The toy is large, the details move easily. The description is fully consistent. I didn't talk to the store. To buy recommend)

Cute toy. I was afraid it was going to be too small for my Boxer/Lab mix (75lbs) but it was okay. Wouldn't be appropriate for anything bigger. To introduce her to the concept, I put a small treat under 2 of the white bones and inside 2 of the red boxes. I tried to show her how it worked, but she wasn't interested. She came back to check it out a few minutes later on her own. She figured out how to remove the white bones and open and close the red boxes in just a few seconds Not sure how long this puzzle toy will keep her entertained, but I'm hoping for at least a little peace in the evenings. As for quality, it is of sturdy plastic. The lids don't stay shut on the red boxes and the white bones don't fit into their spots as well as they should.

I work 100 hours per weeks so I was concerned my pups weren't getting proper mental stimulation. I purchase a few of the puzzle toys with the hopes to challenge them when I am home. This is by far one of the best ones I purchased. I love that it has at least 3 different ways to challenge your pup at the minimum. I loved being able to train them on each puzzle part before putting it together and making them do all the puzzles at once. The only thing I would change is to add a rope/string to the white dog bone pieces. My pups, Yellow Lab & Boxer, had problems grabbing it with their teeth and usually ended up just turning the entire thing over which defeated the purpose of the puzzle. I took some 5/50 cord, put it through the hole, then tied a large knot on the top side. Now my pups can grab the cord or the knot and pull the dog bone up and out of the way which I find works much better for the puzzle as a whole. Other than this issue and the high price I love it and so do my pups.

Super Toy, my dog is LOVES! All so as the description. Toy safe because none plastic components can not get out of design, with this you can leave dog with toy. I am very glad, recommended!

Looks good. Well made. Perhaps too well made. This is clearly above the skill level of our Maltese Terrier, who opens the flip top lids of another puzzle and just rotates and vacuums up the treats (without lifting individual lids). So we thought she was ready for 2.0. Apparently not. Even if I show her the rotate-the-bone-to-release action, she can't pair that with the open-the-drawer action to get the treats. Maybe larger ahem...smarter (?) dogs can enjoy this. Our pup looks at me like "Seriously? What the *bleep* do I do with that?"

This is a well made toy, but it was too easy for my Golden Retriever because he simply flipped the entire thing over to dump all the treats out at once – lol! I therefore recommend this toy to smaller dogs.

The goods came quickly enough .. whole unharmed Good activity for dogs but my dog personally is not difficult from there to get the taste would be better

looks and feels good. hopefully it will bring some interesting times for my dogs!

I love it, though it came a little late due to the current situation, communication with the store was great, I recommend seller

Excellent for my dog. A little hard on the buttons, but I guess they'll go soft with the use.

It matches 100% with the description. Very good quality

Nice well made item good for dog to find snacks and eat slowly

Fast delivery, excellent quality

So my dog is a confirmed genius- just kidding but she solved this in less than a minute. I thought about getting a more complex puzzle but thought I'd try this one out first in case she wasn't a genius. The only negative aspect of the product is that if your dog chews up toys she will probably chew up the puzzle pieces. So this is a puzzle I'd recommend using if you are home with your pet. I'll look for another one to use when I am gone to keep her busy mind occupied.

My two hounds get bored, and when they get bored they get destructive, so I've been looking for engaging games. I liked that this has "levels." I tried the middle level first. Treats were gone in 10 seconds. I took it away and made it as hard as I could. Put it down and treats were gone in 20 seconds. Then they tried to eat the little plastic bones (okay, so maybe they're not geniuses.) The issue seems to be that this is lightweight and the little bones just sit on top - they don't snap in or attach. So if you have an enthusiastic dog (or two) then it gets flipped over and the game is done. Consider personality.
Share
View full details
Collapsible content
SHIPPING

We will dispatch your order with in 24-Hours after confirmation of Payment

Fast & Free Expedited Shipping Guarantee Delivery in 2-4 Days
RETURNS

Buy confidently, we offer hassle free No Question Asked FREE returns. We will provide return Shipping label. START RETURN