If you order within
Arrives by
Regular price
$56.39 USD
Sale price
$46.99 USD
Unit price
per
Sale
Sold out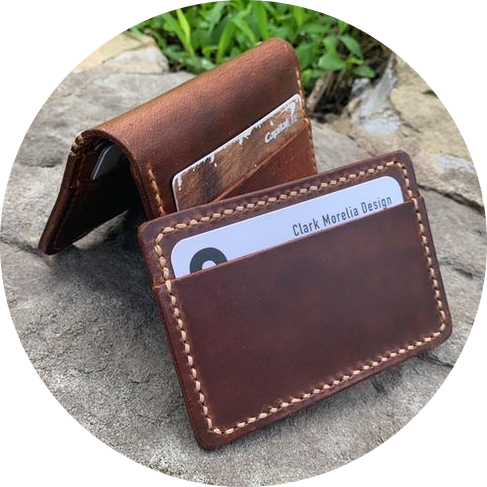 An accessory for all your needs
All kinds of wallets are offered on the market, but something that most don't seem to consider is commuter's requirements. This one keeps your things organized and easily accessible.
A must-have for traveling light
Simple, modern, and hyper-functional accessory
Carry your cards in style
A minimalistic three-pocket wallet in beautiful full-grain brown leather is not only functional, but also super stylish.
Perfect choice for everyday use
This wallet holds 6-8 cards and folded bills while maintaining a thin profile, making it a great front or back pocket wallet.
Slim but versatile & capacious
There are two outside pockets and a center pocket for folded cash or extra cards which makes it slim but versatile.
Ideal for commuters & travelers
The premium quality lambskin leather ensures that this wallet stands up to the abuse of frequent travel.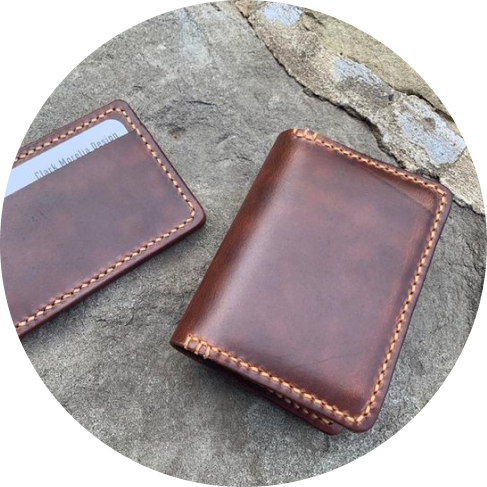 Your quality & durable companion
This wallet is skillfully crafted from quality genuine leather that is ethically sourced and processed using sustainable methods.
Ages like a fine wine and becomes uniquely yours
This wallet will transform in front of your eyes and grow richer and softer as it develops a deeply textured patina.
Simplicity, functionality & convenience
It's so nice having such a compact wallet!
Find yourself digging around for your bus, metro, or subway pass? Save yourself time with the new Commuter Wallet. It was crafted as a minimal and modern wallet for the individual that needs instant access to their transit pass or most frequently used card. This item is loved for its simplicity, functionality, and convenience.
Reviews
Our reviews are verified for authenticity
A compact stylish wallet for three cards or a bit of cash. It really holds the cards in place, nothing falls out or slides out like with a common folding wallet. I really regret not switching to this type of construction before. Overall, awesome wallet, cannot recommend enough!

I got tired of looking like I carry a brick in my pockets, so I decided to try a smaller wallet and get rid of all the unnecessary cards I'm carrying. Now, to my experience. This wallet comes in brown. I didn't regret buying it. Made of REAL stuff, not some cheap fake leather. This wallet will last you an eternity and will actually look better with every passing day, since real leather ages quite nicely. The wallet is also hand-made, so there is a lot of attention to detail, no weird extra stitches or anything. This is a fantastic wallet!

Amazing wallet if you're looking to unload a bit from all those cards you're carrying around and go with just the essentials. I carry my debit card, credit card and driver's licence in it and everything holds firm. It is easy to get cards out, but they never fall out on their own.

Perfect wallet when you don't have a bunch of cards with you. I only carry two and the wallet does the job. I put it in my phone case and don't have to worry about losing it or dropping it. it has this down-to business feel to it, I always feel more serious and professional when i have this on me. Try for yourself, I wasn't disappointed.

Purchased this wallet as a birthday present for my friend. His old one is that old and bulky type that was falling apart at the seams. Well-though construction, easy to take your cards out and put them back in without the risk of losing stuff. I'd rather use it just for cards than for putting crumpled cash in it, but the choice is yours. Who carries bills around anyway?

This wallet is just what I was looking for. The leather is smooth, with no imperfections and is stitched together well. I only carry one card in it and some cash so it's easy to pay without even taking the card out. Good wallet if you don't have more than three cards!

I'm very happy with this wallet and I recommend it to anyone looking for a slim, yet durable solution. This wallet fits three cards with ease. I feel like you could fit even more if you wanted to, but it wouldn't be a good idea. For me the most important part is quality and i wasn't disappointed, the leather is solid and soft, no tears or inconsistencies and the leather is REAL.

It took me some time to get used to not having this familiar bulge in my pocket from when I used to carry the traditional bulky wallet, but those days are gone now. I personally think such smaller wallets are actually so much better, since my old one literally was torn apart from all the stuff I put in it. It teaches you to prioritize and get rid of the stuff you really don't need. I only carry one card with me and the wallet still holds it firm. It's easy to use it when you need to pay and you don't have to flip over millions of cards to find the right one. I'm really impressed with the quality too, well made it seems and from quality materials too. No issue whatsoever, I wish I purchased it sooner.
Share
View full details
Collapsible content
SHIPPING

We will dispatch your order with in 24-Hours after confirmation of Payment

Fast & Free Expedited Shipping Guarantee Delivery in 2-4 Days
RETURNS

Buy confidently, we offer hassle free No Question Asked FREE returns. We will provide return Shipping label. START RETURN