If you order within
Arrives by
Regular price
$34.79 USD
Sale price
$28.99 USD
Unit price
per
Sale
Sold out
Light up your game with every shot
Make game time fun time (and lure the kids away from their devices) with a light-up basketball game. Our Basketball Hoop LED Strip Light helps light up the rim and backboard for a game of hoops like no other.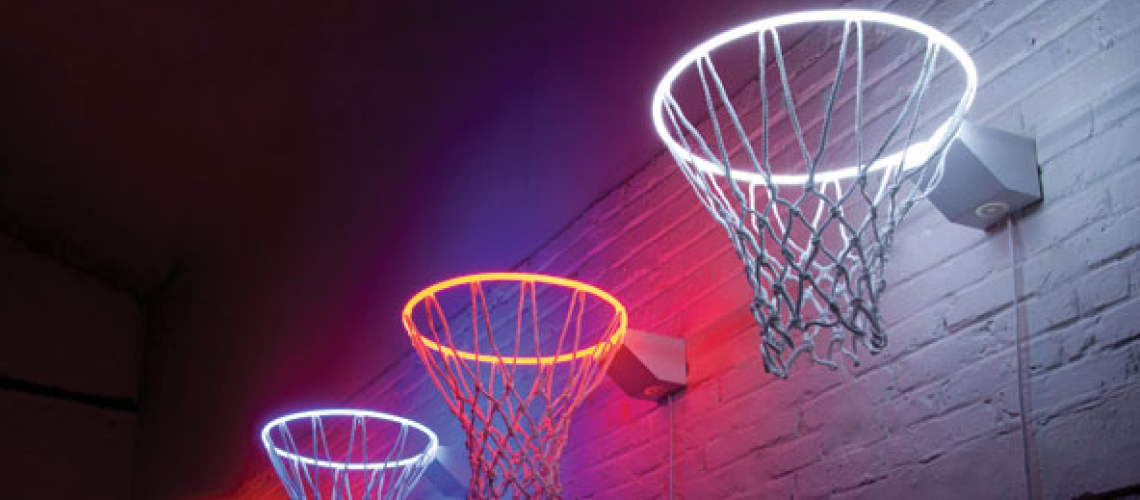 Sensor-activated for encouraging game time
Every shot, from a lay-up to a three-pointer, makes the 144 LEDs on our rim strip light up in excitement. Get your friends or whole family in on a friendly game of night basketball.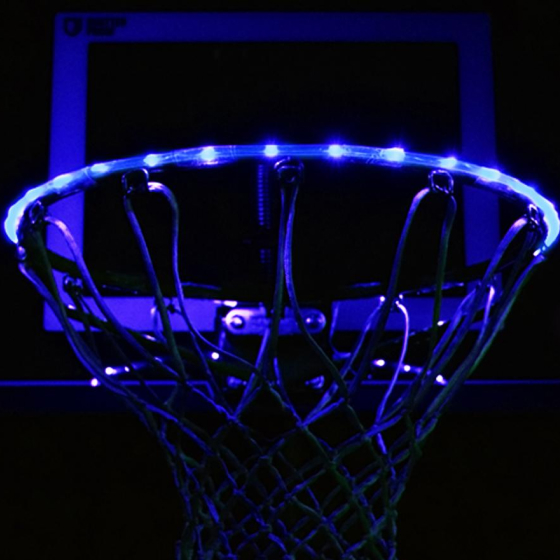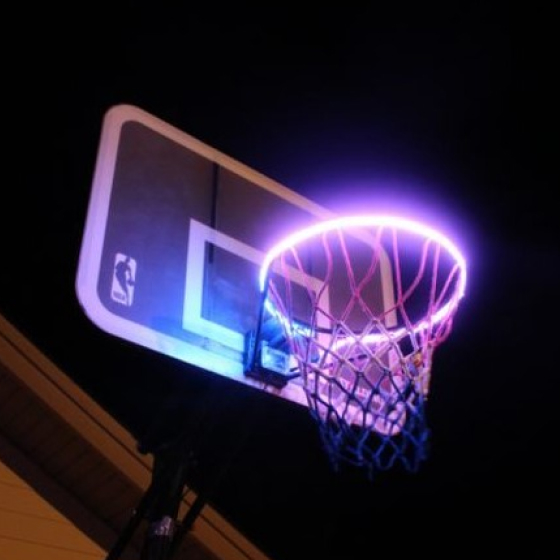 Eight light modes for variety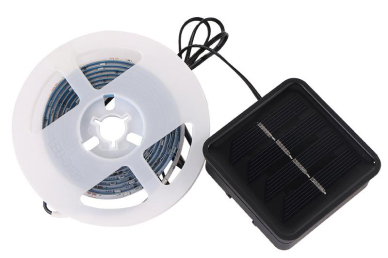 Battery-powered for 30 days of shots
Our rim light utilizes four AA batteries (not included) to bling out your hoop rim for a month's worth of light-up hooping. If you don't want to play with its lights, simply detach the detachable battery case from the sensor for regular shot-making.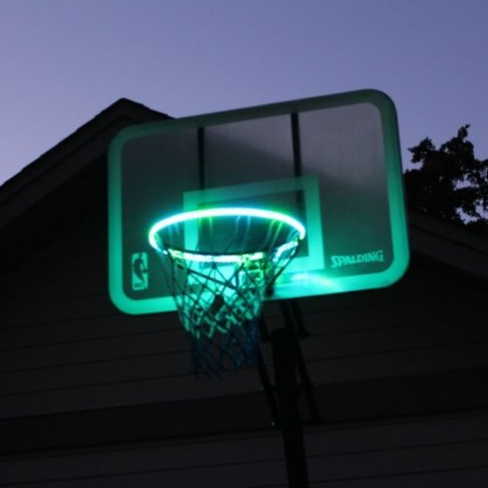 Impact- and weather-resistant
Our rim light is resistant to change in moisture, precipitation, temperature, and UV rays. It stands up to the scorching sun and pouring rain. It also won't shatter or crack, so feel free to slam dunk and take hard shots like a pro.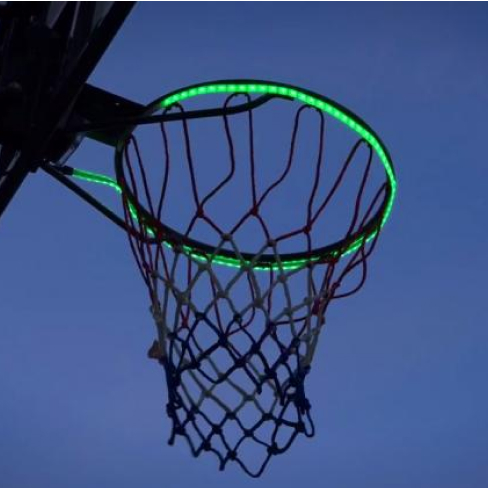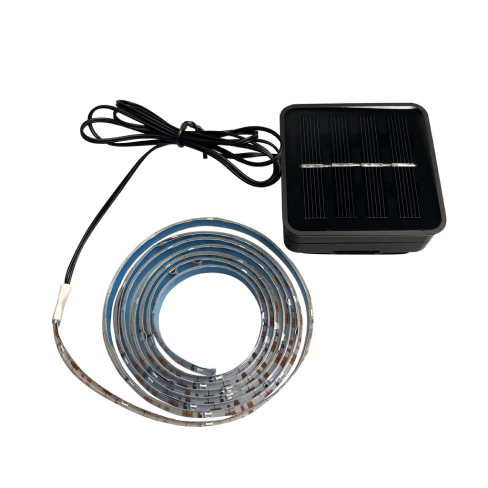 Step 1
Zip-tie the LED strip around the perimeter of your hoop rim.
Step 2
Velcro the sensor box underneath the rim.
Step 3
Velcro the sensor case behind the backboard.
Reviews
Our reviews are verified for authenticity
Bought for my grandson and he loves it. Remote control works well. Easy to install and looks great at night

I ordered this basketball hoop lights for our portable hoop in the yard. Firstly I was afraid that the lights will not fit our hoop, but when we received the item, we found it just fit the size of our hoop. And there are 12 zip ties, 2 pieces of 3M double-sided tapes to install the lights. My two kids do not like to do any sports, but I like playing basketball very much. So in order to encourage my kids to do some sports, I bought a portable hoop and this rim lights. After I installed the lights around the basketball rim, I began to shot the ball into the rim, then the light glow up instantly. My two kids were fascinated by the amazing and cool light effect. Then they tried to shoot the ball themselves, when they started, they could not stop. Finally, my two kids love the sport of basketball playing now because of this cool basketball hoop lights. All in all, I am very satisfied with my purchase this time!

I bought the basketball hoop lights because I want my kids find the fun of outdoor activities instead of playing video games at home. My husband just spent several minutes to complete the installation. At night kids were fascinated by the cool light effects, then they could not help to join the game. My family have new fun outdoor activity at night after we bought the lights.

Great basketball hoop light. Bought this for my teenage son, though it would be funny/fun. He loved it. it is durable! Its great, he plays at night everyday

My son is crazy about basketball playing. So I bought this basketball hoop lights as his birthday gift. He loved the light so much and he said this is the best gift he had received. It is so easy to install, he spent just 5 minutes to finish. The lights are also very bright even in the day. With this basketball hoop lights, my son started to play basketball with his friends at night. Now with the summer coming, he can not bear the hot weather playing basketball in the day, but after sunset, when it becomes cool at dusk he can play basketball with the help of this cool basketball hoop lights.

I purchased this led light to play with my third grade class, and I could not be more thrilled. The product arrived on time and as described. The kids are sure to love playing basketball in our gym with this awesome LED basketball light! I liked how easy it was to be set up! I finished the installation within 5 minutes. According the use manual, I put 3 AA batteries into the battery box before I stick it on the basketball frame, and then turn it on, when I score, the light light up automatically, so cool! It's super bright and we can play game at night! I am completely satisfied with this purchase!

This is what I was looking for for the hoop of my house these lights are the best I really like the way it shines and it has an excellent glow, you just need to give it from electricity for this to really work is the best

I throw the ball, and this LED strip does not come off the ring. Surprisingly, I am very impressed. There were no problems with this device. It shines clearly and brightly.

Lights up good. Different settings to put it on for flashing lights and solid color lights. My son loves it!

Very cool, all the kids in the neighborhood loved it.

I like the product. To me this basketball hoop lights is as advertised. Bright and fun. My boys are very happy about this product. All the family are having such fun playing after we bought the lights. The unique feature of this basketball induction light is that when there is a score, it can accurately provide instant feedback to let you know that there is a goal. And it can encourage children to practice the basketball ball in fun. Yes, the children like this product very much. I did not buy it wrong. And it is so far so well!

Expected a better product. Bought a separate ball also and thought just for the net and ball I t was too much money. Expected lights to be put on rim. Too expensive for what you get

I bought this LED basketball hoop lights for my 11 years old son who loves playing basketball, and he wants to be an excellent basketball player in the future. Since he can only practice basketball playing after school, the light up basketball hoop lights become a must for him. So I bought this one for him so that he can practice basketball playing after school with his friends and trainer. The package was delivered quickly. And the light is well packed, everything is intact when I unpacked the item. There is an instruction of installation steps. My son only read the instruction once and then installed the lights within several minutes.

With the hot summer coming, I can not bear the hot weather during day so I have to do some sports at night. I love playing basketball so much. Then one of friends recommend that I can buy one basketball hoop lights. Then I decided to choose this one as my first try. Item arrived in time and it is so easy to install. It looks pretty freakin awesome! The light modes is pretty cool when I score. Has been used many times with no issues. Good design! Really easy to put together and has extended our basketball fun into the dark night! I will buy one more for my another portable basketball hoop.

Love the lights. bright, many effects. easy to install. no issues. kids love it and adults too. play b.ball well into the night with these awesome lights. we also bought a glow city light up b.ball and that makes it a perfect light up the night set up. worth every penny. make sure you have the sensor in the proper location .

Item arrived very quickly and it is good packed. There are one set of basketball hoop lights, one battery box, one sensor box, 2 double-sided tapes, 15 zip ties and one user manual included. Everything is in the box and all are intact. The lights is super bright so it can illuminate the entire backboard and rim when you score. It is waterproof as it is advertised. Highly recommend it to someone who likes playing basketball.

It is simple to set up. Just install it around the hoop with a bunch of samll zip ties. Insert three AA batteries into the battery box and turn it on. Shoot the ball into the hoop, the light glows up instantly. The color is super bright. It has been up for morn than 2 months now and still going well.

I bought this for my two boys who like playing basketball. Since the summer is too hot in the day, so they would like to play basketball when sunset, they have a glow up basketball, but sometimes they can not see clearly the hoop location. So the LED basketball light is a must have for them. The light is much more bright than what I am expected. Very satisfied with it!

Sweet , nice to play basketball at night

Great for adults or children to play outdoors at night.First of all, it's waterproof.Ultra bright strip light with lighting mode.The child has been using it recently.They love basketball.With it, children are more active.

I gave this product 4 stars because the net does not glow in the dark (the hoop only). However the ball glows nicely and my son is fine with it since we needed a new net anyway. The net seems to be of good quality. I like that he can at least see the ball in the dark!

This is what I needed! Makes me want to hoop everyday. It's so easy to install and looks really cool when you shoot. Never knew something like this even existed !

Great lighting. Thanks to her, I can now play basketball at night and clearly see the goal where to throw the ball. Very happy with the purchase. LED strip mounts with ease. Reliable quality. There were no connection problems. Everything is working correctly.

I like the basketball hoop lights so much and I think it is my best purchase. Super easy to install in minutes, it is also waterproof, heat proof and anti impact. Super high quality! The lights illuminate instantly when I score, which is so exciting.

Stable and it was simple to install. During special time kids stay home all the time so they play basketball in the night, they love to play with neighbors kids having lots of fun. Really happy with this basketball hoop light overall.

Love that there are no batteries! And it stays lit up at night. Kids love it. Only thing I didn't like was there were no directions on where to post the charger.

This is super easy to install and it comes with everything you need. It's not affected by rain, heat, or impact and I like that. My only gripe is that it's not solar powered, but it does have a long cord to make the on off box accessible.

Incredibly sturdy basketball hoop mount. I throw the ball, and this LED strip does not come off the ring. Surprisingly, I am very impressed. There were no problems with this device. It shines clearly and brightly.

We play basketball a lot in the evenings when it cools down outside. When we install this light on our hoop, our game become more exciting and we spend more time playing basketball instead being a couch potato at home.
Share
View full details
Collapsible content
SHIPPING

We will dispatch your order with in 24-Hours after confirmation of Payment

Fast & Free Expedited Shipping Guarantee Delivery in 2-4 Days
RETURNS

Buy confidently, we offer hassle free No Question Asked FREE returns. We will provide return Shipping label. START RETURN